A week at home does wonders
February 24, 2017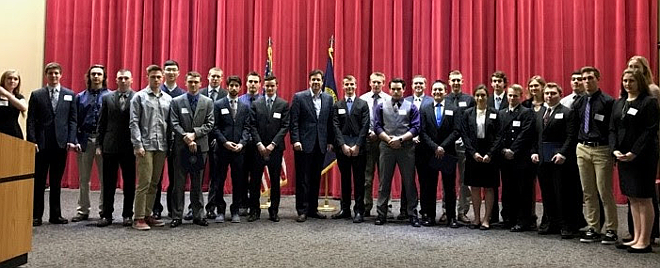 Congressman Raul Labrador (center) with Idaho's 2017 military academy nominees.
By U.S. Congressman Raul Labrador

It was a great week to be home in Idaho. I always love the change of scenery and the opportunity to travel through the district and spend time with my constituents. Spending a week away from the nation's capital for our district work period is a great way for me to spend time with Idahoans in so many different ways.

I'd like to share with you some of the things that happened this week.

The week began at an event at Gowen Field to honor the many bright, intelligent, and honorable young people in our great state who have received a nomination to serve in one of our four military service academies.

This year young people from all over the state came to be recognized for this wonderful achievement. Every time I have the privilege of nominating one of these fine young people I'm left with an incredible sense of hope for the future of our country knowing we are in good hands.

I also had the privilege to spend time discussing agricultural issues with members of the Idaho Food Producers, who represent industries across the state that bring so much of the food we enjoy to our tables.

We were also joined by the members of the National FFA Organization, a group of young people who are Idaho's future leaders, along with the Agricultural Leadership Institute that was created to develop future leaders in agriculture in Idaho.

I always feel that I learn more from them in these meetings then they learn from me. We had a great discussion about important issues like immigration, federal over-regulation of our natural resources, and agricultural policy.

It was a wonderful week in Idaho spending time with my constituents. I feel refreshed, reenergized, and ready to get back to work representing you in Congress.
Questions or comments about this article? Click here to e-mail!