April Fools' weather and power outage hits Boundary County
April 2, 2018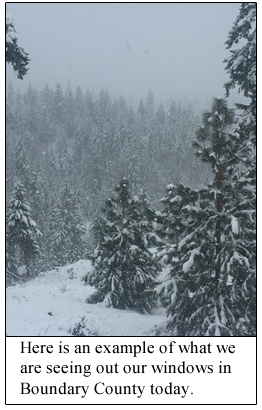 Mother Nature pulled off the biggest April Fools' prank of them all, when on April Fools' Day yesterday she slammed all of us who were gearing up for Spring with cold temperatures, a lot of snow, and a power outage to top it off.

And by the way, Happy Spring Break! to Boundary County students, whose first day of Spring Break is today.

The accompanying photograph shows the remarkable Spring Break weather Boundary County students are enjoying on this the first day of Spring Break 2018.



We are part of a bigger picture


Boundary County is part of the western flank of a large winter storm with high predicted snowfalls, extending from our Northern Rockies area, going across the northern United States upper plains area, and into the Great Lakes region.



Local weather conditions and forecasts


Our local area continues today in a Winter Weather Advisory issued by the National Weather Service. According to the National Weather Service, the advisory includes: "Northern Panhandle-Central Panhandle Mountains, including the following locations Sandpoint, Bonners Ferry, Priest River, Eastport, Schweitzer Mountain Road, Kellogg, Pinehurst, Osburn, Wallace, Mullan, Fourth of July Pass, Dobson Pass, and Lookout Pass."

Locally, the National Weather Service is warning that "a series of wet storm systems with rising snow levels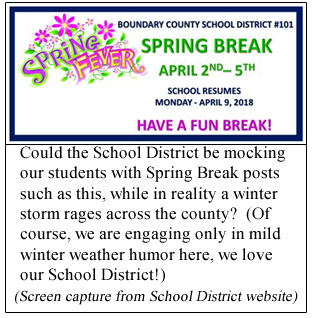 beginning Wednesday and lasting into the weekend, along with melting snow, will lead to small stream flooding concerns this weekend over the [North Idaho] area. The risk of mudslides and debris flows on steep terrain will also increase during this wet period."

Currently, the National Weather Service is predicting chance of scattered snow showers at 50%, later decreasing to 20% through the day today. Tomorrow's prediction is 20% chance of rain / snow with high temperatures around 44 degrees. Wednesday's forecast is 50% chance of rain / snow, with rain showers predicted on into Thursday.

Weather experts say this winter storm comes to us thanks to a dip in the jet stream which extends southward over the Rockies into the central Plains, the Midwest and Northeastern United States.



Major power outage through the night


And on top of the snowy storm, thousands in our area were hit by power outages, hitting late last night and extending into the early hours of this morning. At one point Northern Lights, Inc. was saying over 3,400 customers in their service area were without power. The outages included areas around Bonners Ferry extending northward into Porthill and Eastport areas, the Moyie River / Meadow Creek Road, east along U.S. Highway 2 through Moyie Springs, and western Montana around the Troy and Yaak areas.

Northern Lights posted information during the night saying that Bonneville Power Administration was "having an unexpected outage in Troy, Yaak, Bonners, and Mt. Hall areas."

Bonneville Power is the federal agency that markets the power produced from all federally-owned hydroelectric projects in the Pacific Northwest. Apparently our local outages have been related to Bonneville Power transmission.

Today Northern Lights is saying "Wet heavy snow is causing widespread outages in the northern part of our territory. Crews have been in the field all night making repairs and will continue to do so until resolved. Please report your outage to 1-866-665-4837."

At the time of this writing, Northern Lights is indicating that over 500 customers are still without power. These current outages seem to be concentrated at this time in the Eastport, Round Prairie, Moyie River areas, also Moyie Springs and Yaak, Montana.
Questions or comments about this article? Click here to e-mail!