Boundary County Live-NewsBF Basketball contest continues to thrill
with 16 teams remaining
March 20, 2018
The NCAA Basketball Tournament is down to 16 teams remaining.

As the Tournament builds to the excitement of the coming Championship Game, another contest, nearly almost as exciting, is also playing out in thrilling fashion.

Of course we are talking about the Boundary County Live-NewsBF Basketball Tournament Challenge! As the basketball tournament approached, we placed notices announcing our contest here on the pages of NewsBF, also on the Boundary County Live Facebook Page, and on the NewsBF Facebook Page.

The winner of the Boundary County Live-NewsBF Basketball Tournament Challenge will claim our First Place Grand Prize: a check for a crisp new $100 dollar bill. That's right a $100 first prize.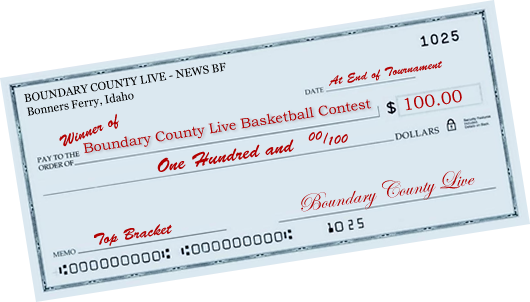 After announcing our contest, we soon had contestants signing up to enter.

Now, with 16 college basketball teams remaining, the bracket who is currently in the first place position in our contest is
1987 Badger 1.

Following right behind in second place is bracket

SamWaz

.

And many other brackets follow behind, with 16 teams remaining, the top spot is still up for grabs.

The real-life owners of the winning bracket will be revealed once the contest ends, which will be when the Tournament's championship game is played on April 2. And that real-life person will win a real-life $100 bill.
Questions or comments about this article? Click here to e-mail!