Distinguished Young Women program set to go in April
March 14, 2018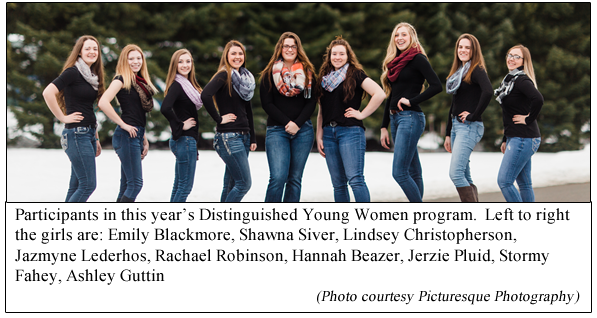 Nine of Bonners Ferry's most outstanding junior girls will be given an opportunity to win scholarship money and prizes in this year's annual Bonners Ferry Distinguished Young Women Scholarship Program (formerly Junior Miss). Set for April 28 at the Becker Auditorium, get ready for a night of vintage family fun as they present "Under the Big Top."

Started in 1966, the Bonners Ferry Distinguished Young Women Program has opened the door of opportunity for countless young women in our community. Throughout the years, Bonners Ferry has proven to be one of the best programs in the state and nation. It also has the reputation of giving one of the largest amounts of scholarship and prizes in Idaho, awarding over $16,000.00 last year.

The Distinguished Young Women program focuses entirely on participants' inner beauty, strengths, and accomplishments. Participants are given the opportunity to participate in the "Be Your Best Self" program. The "Be Your Best Self" program allows Distinguished Young Women participants to reach out and encourage young people nationwide to make a commitment to being their best selves in areas such as: academics, physical fitness, morality, character, and social and civic participation. The five elements of "Be Your Best Self" are: Be Involved, Be Studious, Be Healthy, Be Responsible, and Be Ambitious. Participants take part in the "Young Miss" program by mentoring local sixth grade girls, performing community service projects, and participating in educational opportunities highlighting the elements of the program.

Each participant competes in the following categories: Scholastics, Interview, Talent, Fitness, and Self Expression. An Olympic style scoring system is used in all categories of the program, and each participant receives a score of 1 to 10 in each category. Each participant is judged as an individual and not by comparison to other participants. Scholarships are awarded to the winners of each category, as well as to runners-up, and the young lady ultimately awarded the title of Bonners Ferry's Distinguished Young Woman.

The Bonners Ferry Distinguished Young Women program receives its funds and support entirely through the donations of local community members and businesses. Without this support the program would not exist. Throughout the next several weeks, volunteers will be contacting businesses and community members for their support. Donations of any size make a significant impact and allow Bonners Ferry's best to achieve their higher learning goals. If you would like to donate to this year's program, please contact Andrakay Pluid at 208-946-7598.

Founded in 1958 in Mobile, Alabama, Distinguished Young Women is the largest and oldest national scholarship program for high school girls. During its 60 years of operation, the program has provided life changing experiences for more than 750,000 young women. Last year, Distinguished Young Women provided almost $1.5 billion in cash and college scholarship opportunities to program participants at the local, state and national level.

The mission of Distinguished Young Women is to positively impact the lives of young women by providing a transformative experience that promotes and rewards scholarship, leadership and talent. National sponsors include Mobile County, City of Mobile, Wintzell's Oyster House, Encore Rehabilitation, Alabama Power Foundation, Master Boat Builders, The Barbara Barrington Jones Family Foundation, Regions Financial Corporation, Evonik Industries, and The Alabama Media Group. For more information about
Distinguished Young Women, contact Adrienne Rea at National Headquarters 251-438-3621, Adrienne@DistinguishedYW.org) or visit www.DistinguishedYW.org. Find us on Facebook, Twitter and YouTube.
Questions or comments about this article? Click here to e-mail!