BFHS Robotics Team ready for intense regional competitions
(and, Open House coming up this Friday)
March 12, 2018
Bonners Ferry High School FIRST Robotics Team 2130 Alpha+ invites our wonderful community to attend our annual Open House on Friday, March 16, 2018 from 6:30-8:30 p.m. We will be showcasing our twelfth season robot, built in just six weeks! Our workshop is located on the east side of Boundary County Middle School. Please follow signs at the front of the school.

This year, we will attend the Idaho Regional competition at the Taco Bell Arena in Boise from March 28-April 1, and the Canadian Rockies Regional at the Genesis Centre in Calgary, Alberta, Canada from April 4-8, 2018. In all, we will be competing with over 70 teams from Wyoming, California, Utah, Washington, Colorado, Montana, Hawaii, Idaho, Mexico, Germany, Turkey, and China. You can follow our team's progress at both events on www.thebluealliance.com.

To see the poster for information on the Open House this Friday, click here.

(Story continues below this picture)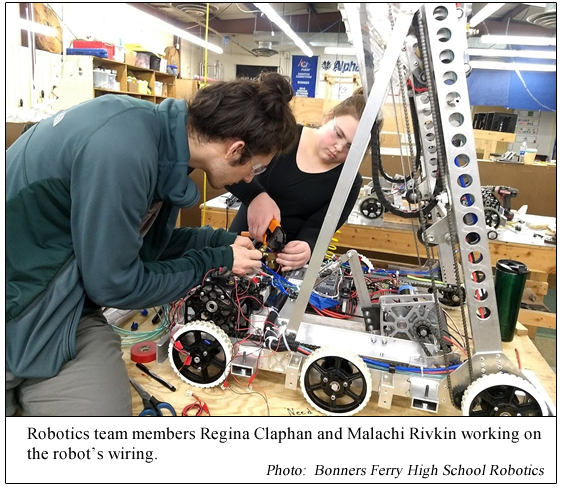 This year's game, FIRST POWER UP! involves two three-team alliances, with each team controlling a robot and scoring points on an arcade-themed field. Teams are challenged to place milk crates, or "power cubes" on balancing platforms, attempting to tip them to their side to gain ownership. Alliances can also trade power cubes for "power ups," giving them a temporary advantage in the game. At the end of the game, robots can climb the tower attached to the center balancing scale, giving them additional points. To view the game animation, visit https://www.youtube.com/watch?v=HZbdwYiCY74&t=6s.

It should be noted that these events are more than robot driving competitions! At past events, Alpha+ has earned awards for engineering designs, innovation, inspired community outreach, and business planning. We have also received both mentor and student recognition for outstanding individual work in the program. Alpha+ has advanced from regional competitions to the World Championship four times thus far. Given our resource constraints and remotegeographic location, we are especially proud of our accomplishments.

For more information on our team, please visit our Facebook page, "FIRST Team 2130" and our website, www.bfhsrobotics.com. If you are interested in joining our team as a student member or as a mentor, please contact our Lead Mentor, Edward Katz (edward.katz@mail.bcsd101.com), for further information.

We are immensely grateful for the support and enthusiasm our community has shown toward our team. Team 2130 Alpha+ runs primarily on donations from generous businesses, organizations and community members. If you are interested in making a donation, checks may be made payable to Bonners Ferry High School Robotics and mailed to Bonners Ferry High School, 6485 Tamarack Lane, Bonners Ferry, ID 83805.

We hope to see you at our Open House!
Questions or comments about this article? Click here to e-mail!