Members of Boundary County Organizations Learn Wilderness First Aid
February 28, 2018
By Sara Hall, Writer

BOUNDARY COUNTY — The Hall Mountain Volunteer Fire Association sponsored a two-day training workshop in Wilderness First Aid for Boundary County first responders, and others, at the Kootenai National Wildlife Refuge on Saturday, February 24. The trainers were Jason Luthy and Rob Talbot of Longleaf Wilderness Medicine, a company in Sandpoint, Idaho that specializes in a variety of classes in Wilderness medicine.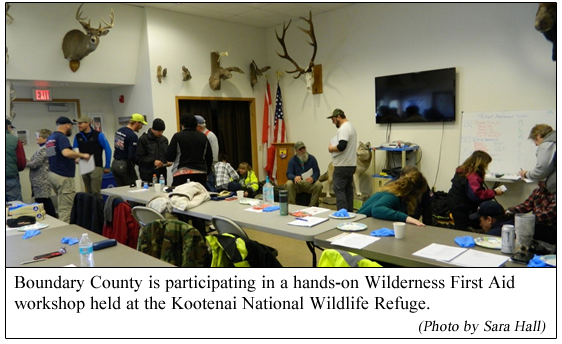 Attendees included members of the Hall Mountain Fire Association, members of the Boundary County Sheriff's Department, including Sheriff Dave Kramer, Chief Deputy Rich Stephens, and Deputy Caleb Watts, a Search and Rescue member, and six members of the Hall Mountain Fire Association Auxiliary.

Training was hands-on, with attendees breaking into groups to practice lessons given in the training sessions. Examples of Patient Assessment training segments presented were l) Scene Size-Up; 2) Initial Assessment; and 3) Focused Assessment. Groups practiced both indoors and outdoors in the snow.
Lunch was provided by the Hall Mountain Fire Association Auxiliary, with Helen Chase and Mary Ann Cruce serving. The main dish, a hearty beef stew, was cooked by Liz Sloot of Copeland, Idaho.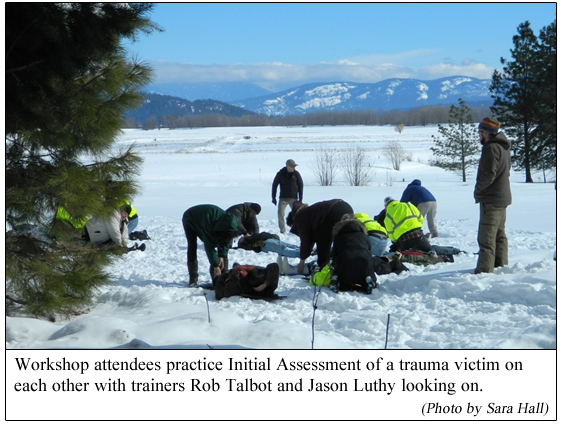 Questions or comments about this letter? Click here to e-mail!