By Principal Nathan Williams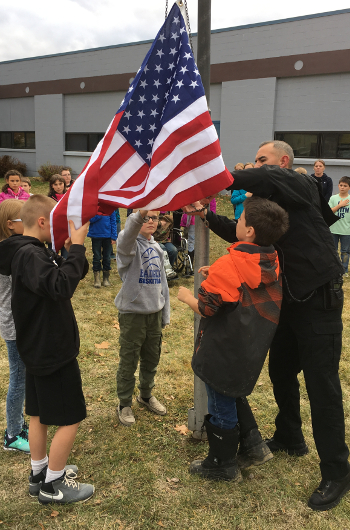 Mr. Manny Figueroa shows students how to raise new school flags properly.

The Valley View Elementary School staff is excited to be back in school after a wonderful Thanksgiving Break and are looking forward to giving our students a well-rounded education as always.

We believe that academics and character building is essential to growing life-long learners who will positively enhance their communities in the future.

With that said, every month at VVES we celebrate a different character trait and get the opportunity to highlight our wonderful students. Last month we celebrated the character trait of responsibility and the following students were highlighted by their teachers (above): Makynzie Edwards, Sully Pauls, Madison Moon, Kaylee Stolley, Landon Barton, Jaycee Bateman, Myron Michaels, Rylan Leach, Jaylon Randolph, Elijah Jurado, Carmen West, Wren Tye, Brooke Petesch, Alina Rozok, Mary Moon, Ivaan Cartwright and Asher Williams.

Please congratulate all of these responsible students when you see them.

Our fifth grade Leadership Class just recently bought new flags for our school and Mr. Manny Figueroa donated his time to educate our students on how to lower and raise the new flags properly.

Thank you to Mrs. Schulte and Mr. Figueroa for your time and effort with this educational event!

We are excited to announce that Mrs. Holly, our wonderful second grade teacher, received a STEM grant this year and therefore more STEM activities, curriculum and materials will be added to what is already in place at VVES.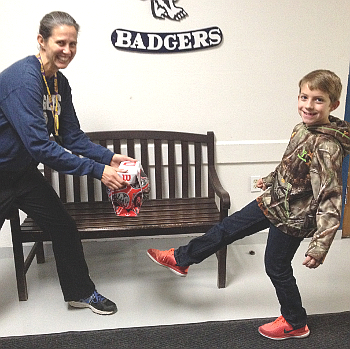 Mrs. Petesch and Stryder Lierman

Mrs. Petesch, our PE teacher, is encouraging all families to exercise together and participate in the Family Fitness Challenge. This month's winner is Stryder Lierman, who won a new soccer ball.

Congratulations Stryder!

If you would like more information regarding this great program, please check out Mrs. Petesch's PE link on our school website.

Our annual Christmas Program is once again at Boundary County Middle School this year and will start promptly at 6 p.m. on Tuesday, December 19.

If you have students in the program please have them there no later than 5:30 p.m.

It should be another great evening full of songs, laughter and positive memories.

Our character trait for December at VVES is Generosity; giving freely from the heart, giving of your time, talents and possessions without expecting anything in return.

VVES is a busy place and we have a lot of great things going on within our school. Please check out our website for the most current information at: http://www.vves-bcsd-id.schoolloop.com.