Election November 7, 2017
October 31, 2017
The November 7, 2017, election in Boundary County will decide two city council members in Bonners Ferry and the mayor and two city council members in Moyie Springs. You must be a resident of each respective city qualified to vote to participate. Polls will be open from 8 a.m. to 8 p.m. at the Fairgrounds Memorial Hall for Bonners Ferry voters and at Moyie Springs City Hall for Moyie Springs voters.

Bookmark this page to read election night returns as they come in.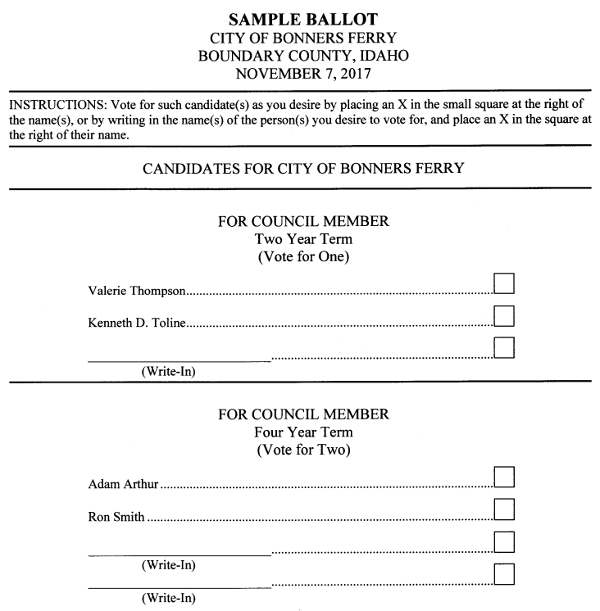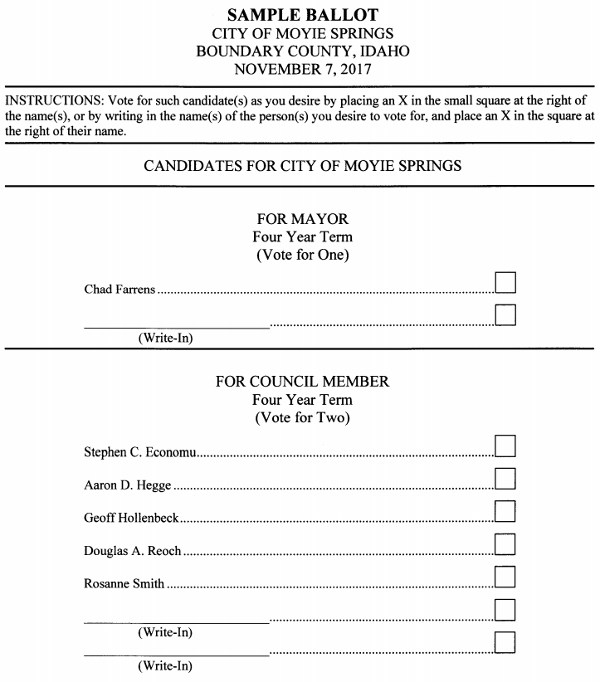 Candidates for Bonners Ferry City Council, Two-year term

Valerie Thompson wants to give back: Valerie Thompson freely admits, when she first begins to talk of her decision to run for Bonners Ferry City Council, that she originally felt way out of her comfort zone with "the whole political thing." But in a short time listening to her talk about it, you recognize without doubt that her motives are pure, and deep rooted.

City council candidate Ken Toline a patriot, servant: Though his name is on the ballot for the November 7 election in the only contested race in the Bonners Ferry City Council election, Ken Toline is not a politician. He professes no political party affiliation. He is not, he confesses, a "local." He is, he said, a patriot, a servant.