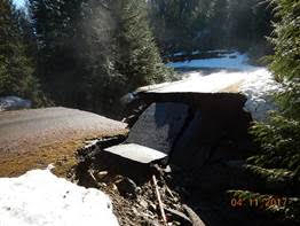 Katka Face Road washout

The Idaho Panhandle National Forests has issued additional road closures on multiple Forest Service roads in Boundary and Bonner County for public health and safety due to flooding damage and unsafe conditions.

Warmer weather, snowmelt and heavy spring rains are creating soft road surfaces and spring "break up" conditions on many Idaho Panhandle National Forests roads.

New roads closed for damage and unsafe conditions are:
* Priest Lake: Bear Paw Road # 305
* Bonners Ferry Ranger District: Trout Creek Road # 634, Myrtle Creek Road # 633, East Dawson Road # 2429, Katka Face Road # 314, Baldy Road (Dawson Ridge) # 2538, Twentymile Road # 408.

To provide for safe transportation and protect the condition of the road system, the following roads are closed until ground conditions improve:
* Sandpoint Ranger District: Grouse Creek Road #280, Butler Creek Road #230, Little Black Tail Road #630, Trout Creek Road #232, Pack River Road #231
* Bonners Ferry Ranger District: Smith Creek Road # 281 and Tuin Road # 2269
* Priest Lake: Gleason McAbee Road #334

Residents traveling to their property on these roads are exempt from the closures.

The Idaho Panhandle National Forests is compiling a list of road damages across the forest. Traveling on soft roadbeds can cause additional damage.

"Temporary restrictions are to help protect the road surface and ensure that road drainages work properly. We ask all forest users to please report any major damage they may encounter while out recreating," said Forest Supervisor Mary Farnsworth.

To report new road damage, please contact the applicable ranger station. For more information on road conditions and closures, please visit https://www.fs.usda.gov/main/ipnf/home.