Hall Mountain auxiliary launches newsletter
February 8, 2018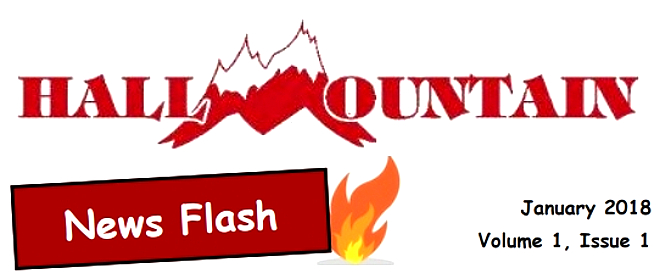 The Hall Mountain Volunteer Association Auxiliary consists of approximately two dozen volunteers who meet monthly at Mt. Hall School at 6 p.m. on the second Tuesday of each month from April through October, but they are available throughout the year.

Since its inception in September, 2009, the HMVAA has worked to promote the economic, social and physical welfare of the Hall Mountain Volunteer Fire Association and its firefighters.

They provide food and refreshments to firefighters on extended incidents when requested by the chief. They carry out fundraiser events for the fire association to help purchase needed items for the different station locations. In one fundraising raffle last year for a king size quilt and a Mossberg 30-06 rifle, the auxiliary raised $5,729.
These funds also help us pay for our volunteer firefighters' Life Flight insurance to cover them and their families.

The Auxiliary also helps to promote awareness of the fire department in the community, and association members recently received the premier issue of Hall Mountain News Flash, a monthly newsletter being distributed by email to members and those who subscribe.

In addition to the above information on the auxiliary, Volume 1 Issue 1 has news from Chief Brad Lowther and from board president John Kellogg, a look at the training each volunteer firefighter undergoes, a look at all the HMVFD incidents of 2017 and more.

If you'd like to receive the Hall Mountain News Flash, just send an email to Martie at hmvfd.newsletters@gmail.com with the subject, "HMVFD Subscribe."
Questions or comments about this letter? Click here to e-mail!