News
November 19
Search underway on North Hill: Law enforcement personnel are continuing the search for a man believed to have a nation-wide no-bond felony warrant for his arrest after the individual bailed out of a vehicle sought by Idaho State Police at about 4 p.m. today on the North Hill and has so far evaded those searching the area around the Boundary County Landfill. The suspect has been apprehended.
November 18

It's beginning to look like the holidays are here! The one day of the year you can almost guarantee a traffic jam on the normally placid Moon Shadow Road is on the Saturday before Thanksgiving, when the congregation at the Kootenai Valley Mennonite Church put on their annual Holiday Craft and Bake Sale. And today, the Mennonite congregation weren't the only ones making it feel that the holidays have arrived in Boundary County! A NewsBF pictorial
Second semester of Classical Conversations to begin: Home schoolers interested in the classical approach to education might consider Classical Conversations as the second semester begins January 10. An informational meeting to share more about the programs with interested parents will be held on Friday, December 1.

BCMS has plenty to be thankful for: First let me say happy Thanksgiving to all of you out there. We appreciate and are thankful for the support we get from this community every day. We strive to help give back when we can and though we probably don't say it enough, Thank You! By Principal David Miles II
Schweitzer opening earliest in 20 years: It's opening day at Schweitzer Mountain Resort, and they are off to a great start this season with the earliest opening they've had in 20 years! The mountain is in good shape with the recent snow fall and all the work our snow making and grooming crew has been doing.
November 17
Free 'Cyberbu//y' showing and forum slated: The Boundary County Human Rights Task Force is presenting a film and forum to address the serious issue of cyber-bullying at 6:30 p.m. Thursday, November 30, at the Becker Auditorium at Bonners Ferry High School.
November 16

Please send me your news! A lot of people tell me they're surprised and pleased to find news of their organization that I've picked up from a website or on Facebook, or found on a poster on a wall downtown. I will keep looking and sharing, but instead of waiting for me to find it, why not make sure I get it by sending it to me?

A lot to be thankful for at Mt. Hall Elementary: Greetings from up north! We have snow on the playground and the first progress reports have been sent home for the year. We made it halfway through the first trimester, and our students and staff have been working hard. By Principal Lisa Iverson

Bonners Ferry FFA members celebrate Ag Days: On Friday and Saturday, October 6 and 7, members of the Bonners Ferry FFA Chapter took a bus down to the University of Idaho in Moscow for Ag Days. The adventures and activities started the minute the bus parked on campus. By Katelyn Hutchinson

Locals to take part in 118th Audubon bird count: Local bird lovers will be getting together for an early breakfast on Thursday, December 28, and then scatter to all corners of the county to take part in the 118th annual Audubon Society Christmas Bird Count.

Extended holiday hours for Christmas tree permit sales: In order to accommodate members of the public who may wish to purchase a Christmas tree permit on the weekend, the Coeur d'Alene River Ranger District's Fernan Office will be open from 8 a.m. to 4 p.m. Saturday, December 2, and Saturday, December 9.
November 15

Meet the sawyer who cut the Capitol Christmas Tree: Meet the local sawyer who was selected earlier this month to cut the 2017 U.S. Capitol Christmas Tree, which is now on its way east to Washington, D.C. Kootenai Forest Supervisor Chris Savage selected Pete Tallmadge of Troy with the honor.
Idaho fraud victims can seek compensation: Idaho Attorney General Lawrence Wasden announced Tuesday that Idahoans who sent money to scammers through Western Union's wire transfer service may be eligible for compensation from the U.S. Department of Justice's Victim Asset Recovery Program.
November 14
Timber thieves have law on their trail: Boundary County law enforcement officers would like to send out a stern warning to those who are apparently visiting logging sites around Boundary County, finding unmanned log decks and helping themselves to the fruits of someone else's labor.

Calling all socks! You've heard of coat drives, maybe even hat or mitten drives, but Valley View Elementary is trying something new to ensure that those in need don't suffer cold tootsies this winter; they are holding their first ever Sock Drive! Donations of new socks, preferably warm, toasty new socks, can be dropped in a drop box that will be in the entry of Valley View Elementary November 26 through December 9.
Court dispositions and sheriff's log
November 13

Mt. Hall students salute our veterans: Patriotism is still alive and well at Mr. Hall Grade School! On November 13, approximately 25 veterans were treated to a delightful and charming Veterans Day salute by the students of this school. Upon my arrival at Mt. Hall, I was greeted by Principal Lisa Iverson. She graciously asked if there was anything she could do or provide for me. By Mike Ashby
More News →
Letters & Opinions
Rosanne Smith: There seems to be some confusion regarding my involvement concerning the city Ordinance Codification. Why I was "thrown under the bus" at the November meeting I do not know. But being labeled a "malcontent" is worth it.
U.S. Senator Mike Crapo: Idaho veterans and veterans service providers have been among those assisting with hurricane recovery and other emergency response. Staff from the Boise Veterans Affairs Medical Center headed to Puerto Rico to assist. Area veterans and veterans service providers have skills of great use in a variety of fields, especially emergency response.
More Letters →
Sports & Outdoors

BFWC has good showing at Bigfoot Battle: Bonners Ferry Wrestling Club placed 24th out of 120 teams at the USA Wrestling Bigfoot battle tournament. Eli Richards led the way by taking first in the 130 pound Middle school division, scoring 26 team points.

Lady Badgers open season with a win: "It was fun," Badger coach Travis Hinthorn said of their season opener tonight. "We got a little wild later in the game, but we'll calm down as the season goes on." Despite opening game rambunctiousness, the Badgers did what they set out to do, earning an opening game win over the visiting St. Maries Lumberjacks, 53-42.
KVSA gearing up for Gun & Horn Show: The Kootenai Valley Sportsman Association will be hosting the annual Gun and Horn Show at the Boundary County Fairgrounds February 9 to 11 2018. Be sure to come check out the horns and a wide range of vendor booths along with raffles for a rifle and more!
More Sports →
Obituaries
Carolina Lynn Hays, 50, lovingly known as "Pino," which means pine tree in Dutch, passed away on Friday, November 10, 2017, at her home in Bonners Ferry. A Celebration of Life will be held at 2 p.m. Saturday, November 25, at Providence Bible Presbyterian Church, 6530 Washington Street, Bonners Ferry.
Shirley Lorraine Lindberg, 92, died November 3, 2017, at home in Naples. She was a member of Trinity Lutheran Church in Bonners Ferry, and a memorial service celebrating her life will be held at the church at 11 a.m. Tuesday, November 21.
James Mark Farber, April 29, 1957 ~ November 8, 2017
Mike Phillips, October 28, 1986 ~ November 9, 2017
Susan Lee Rogers, September 15, 1943 ~ November 3, 2017
More Obituaries →
Search News Bonners Ferry:
Loading
Social News
Happy November 20 birthdays go out to Brianne Suldovsky, Joseph Neumayer and Lily Sue Owens!
Thanks to Facebook & Bonners Ferry Beta Sigma Phi!

Josh Knaggs BCSD Certified Employee of the Month: It is an honor to recognize Mr. Josh Knaggs as the Certified Employee of the Month for October 2017. Mr. Knaggs is a versatile person to have in a school. He is the art teacher at Bonners Ferry High School, and he is starting to round the corner toward a decade of service at BFHS.

Elijah Parlow is Badger Awesome! I would like to recognize Elijah Parlow as an exceptional learner. He arrives to class daily with a smile and ready to work. By Rachel Wheatley
More Social News →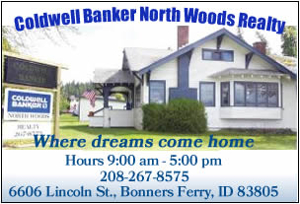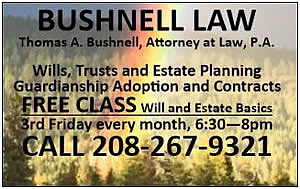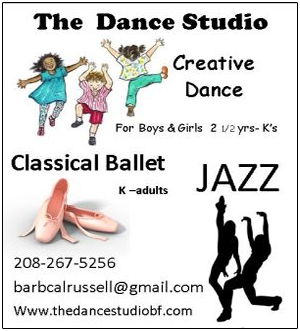 Events
Monday, November 20
Selling Your Products Online Using Etsy, 1 p.m., Boundary County Extension Office. To register, call (208) 267-3235.
Fab lab classes by appointment, 1 to 7 p.m., Boundary County Library. To learn more, call (208) 267-3750.
Boundary County Democratic Central Committee Meeting, 6 p.m., Mugsy's Tavern & Grill, 7161 Main Street, Bonners Ferry.
Kootenai Valley Resource Initiative Board Meeting, 7 p.m., Boundary County Extension Office. To learn more, call Patty at (208) 267-3519.
Tuesday, November 21
Computer tutoring by appointment, noon to 3 p.m., Boundary County Library. To learn more, call (208) 267-3750.
Community Blood Drive, 1 to 5:30 p.m., Bonners Ferry LDS Church, 6568 Alderson Lane. Sign up at https://inbcsaves.org or call 1-800-423-0151.
Bonners Ferry City Council Meeting, 7 p.m., Bonners Ferry City Hall. To find out more , call (208)-267-3105.
Thursday, November 23 ~ Thanksgiving
Ninth Annual Turkey Trot 5k/10k Fun Run, 9 to 11 a.m., Boundary County Fairgrounds.
Three Mile Thanksgiving, 10 a.m. to 1 p.m., Three Mile Cafe at Three Mile Junction. Turkey and all the trimmings, served free to everyone who walks in! All are welcome.
Friday, November 24
Fab lab classes by appointment, 1 to 5 p.m., Boundary County Library. To learn more, call (208) 267-3750.
Bonners Ferry Christmas Tree Lighting Ceremony: 4 p.m., Santa arrives at Georgia Mae Plaza. Mayor David Sims will light the Bonners Ferry Christmas tree at 5:30 p.m.
The Shook Twins, 7:30 p.m., The Pearl Theater, 7160 Ash Street, Bonners Ferry. Tickets are $17 in advance at Mountain Mike's, Bonners Books, online at www.thepearltheater.org or by calling (208) 610-2846.
Saturday, November 25
Chess Club, 10 a.m. to noon, Boundary County Library. To learn more, call (208) 267-3750.
Community Blood Drive, 10:30 a.m. to 1 p.m., Safeway, 6519 Main Street, Bonners Ferry. Sign up at https://inbcsaves.org or call 1-800-423-0151.
More Events →