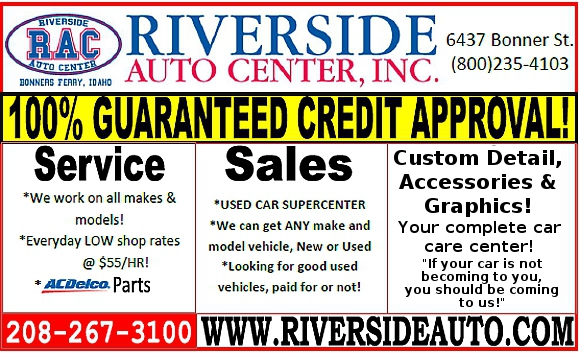 News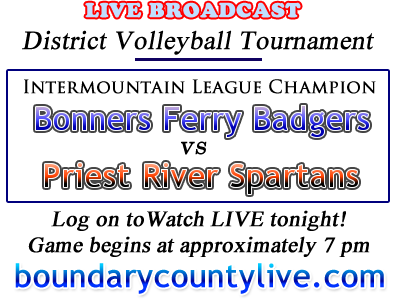 School District provides sources for weather / emergency information: With the winter months at hand, Boundary County School District No. 101 wants to inform patrons where they can find information for school closures due to weather, or other emergency information.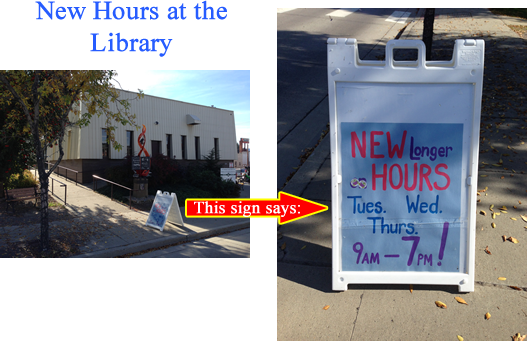 Idaho and National Guard team up for program to help teens who drop out: An opportunity for teens who have dropped out of school to renew their education in a unique and challenging environment is available. An information seminar about this program is coming up at the end of this month.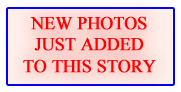 History and mystery at Grandview? Some might think a cemetery tour a little odd, but a tour of this Boundary County cemetery proved to be quite interesting and enlightening . . .
Twin Rivers Hatchery celebrates, now open for business: The

ribbon has been cut on the Kootenai Tribe's Twin Rivers Sturgeon and Burbot Hatchery. The Hatchery's Opening Celebration was held on Thursday, with a packed house in attendance.
Senator Crapo conducts Town Hall meeting: U.S. Senator Mike Crapo attended a Town Hall meeting in Bonners Ferry Thursday morning, October 9.
(Additional stories below this ad)

What are all of these bugs?!!: In some parts of the county, including the city-wide area of Bonners Ferry, the air appears to be thick with a small, winged, bluish looking insect.
Experienced authors to give presentation: Two published authors, one a University of Idaho professor, will give a presentation here October 17.

Candidate Forum informative, sometimes contentious, and--successful: It was standing room only at the Kootenai River Inn for the Election 2014 Candidate Forum. "There were a couple of some- what contentious moments," said one of the organizers.
Plans begin for Festival of Trees; hospital seeking to fund new van: For the eighteenth year, Boundary County residents will be celebrating the Christmas season with a gift to the community by supporting the Festival of Trees.
Group seeking singers, instrumentalists, and dancers for June

tour to Greece: Interviews and auditions are being held for singers and dancers interested in touring Greece with Spiritsong, an international choir conducted by Vicki Blake Thompson.
Boundary Community Hospital offers 25% off mammography

screening: When statistics are one in eight—of anything—the odds are high. That's why it is so important for women to have regular mammography screenings. Boundary Community Hospital's special program this month can help.
Video highlights available for the BFHS Volleyball team's annual October event, "Volley for a Cure" from last night. You can review all the night's action and excitement, all in a 4 1/2 minute highlight reel.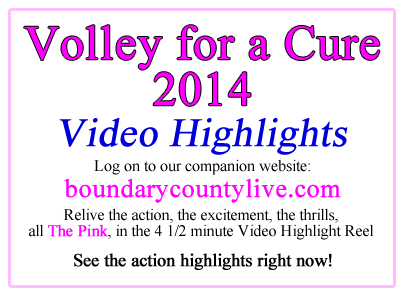 Boundary County Fair 2014: A Fair to Remember!
Boundary County Fair 2015: Contest starts now:
The 2014 Boundary County Fair is a fair to remember with the storm that blew through on Friday. Boundary County will be celebrating its centennial in 2015. The Boundary County Fair Board is sponsoring a contest for the 2015 fair theme and artwork for the cover of the fair book.
More News →
Letters & Opinions
Darrell Kerby: Keough seniority emphasized: "As the number 2 ranking member of the Idaho Senate, she works for our interests."
Boundary County Explorers Post 190: Thanks for community support!
Lorraine Simkins: Makes voting recommendations: "Well, it's close to election time!! I would like you to consider . . . "
Andrew Scott: Scott's husband clarifies her philosophy and credentials: As an aquatic biologist, Heather spent much of the first 10 years she lived in North Idaho working on various . . .
Sharon Oldfield: Candidates: Consider Facebook information as public information
Jim Paulus: Dreaming that ITD thinks about the rest of us
Angela Tuttle: Scott a creative thinker: "she doesn't make empty promises . . . "
Alan and Debbie Flory: Tucker brings experience: "will bring fresh new energy as our County Commissioner."
Greg Johnson: Tucker will move county forward: "Tim Tucker represented North Idaho well during his 13 years in the state legislature . . . "
Rebecca J. Huseby: Supports Scott for District 1A Idaho House of Representatives: "A refreshing perspective on politics! There is an old-fashioned air of Americanism about this vibrant little woman . . . "
Don Jordan: Supports Tucker for county commissioner: "Tim will be a County Commissioner who will represent ALL of us, with experience and dedication! He served us for 13 years in the Idaho State legislature . . ."
More Letters →
Sports & Outdoors
Fish and Game approves historic Coho Salmon season; restored species had been technically extinct: Anglers, a unique salmon season opens in a river not that far off. The Idaho Fish and Game Commission has approved an historic fishery for the Clearwater River. For the first time ever, a specific season for Coho Salmon will open in Idaho.

Great regular season finale for BFHS Cross Country: District competition up next.
BFHS Cross Country performs well at Priest River and Moscow: The Badgers gain momentum in meets last weekend, including some first place finishes.
Rifle season for deer opens Friday: Deer hunters are gearing up for opening day across Idaho, as numbers are up and opportunity is high. Three consecutive mild winters across most of Idaho are resulting in unusually high numbers of mule deer and whitetail deer.
It's that special time of year: Deer hunt opening soon: The regular deer season opens October 10 in most regions of Idaho. Take a look at this story to see some tips from Fish and Game on hunting opportunities for youth, their guide in taking care of game meat in the backcountry, and information on hunting rules.
Ask Fish & Game: Hunting on private land: Idaho Fish and Game answers some commonly-asked questions.
More Sports →
Obituaries
Curtis Vernon: March 30, 1955 ~ October 11, 2014
Frederick John Marek: June 22, 1940 ~ October 17, 2014

(complete obituary now available)
Michael Ross McCall: April 14, 1947 ~ September 26, 2014
Dorene Dehlbom: September 5, 1951 ~ October 6, 2014
More Obituaries →
Search News Bonners Ferry:
Loading