News
July 26
Opening on state tax commission: Governor C.L. "Butch" Otter announced today that applications are being accepted until the close of business on Friday, August 18, for a seat on the four-member Idaho State Tax Commission.
July 25
Bonners Ferry man gets five years for child porn: Thurlo Eugene Clark, 72, Bonners Ferry, was sentenced today in federal court in Coeur d'Alene to 60 months in prison for possession of sexually explicit images of minors, Acting U.S. Attorney Rafael Gonzalez announced.
Court dispositions and sheriff's log
July 24
Community Hospital to auction surplus: From 8 to 11 a.m. Tuesday, August 1, Boundary Community Hospital will sell, to the highest bidder by means of sealed bid, the following surplus items on display at 6653 Kaniksu Street ...

City to hold surplus auction: The City of Bonners Ferry is disposing of the items shown below by sealed bids. The vehicles listed will be displayed at the City utility yard at 6362 Washington Street from 7 a.m. to 3:30 p.m. through July 27. All bids must be submitted by 5 p.m. Thursday, July 27.
Kootenai River restoration project earns accolades: A review of 29 wildlife habitat projects funded by the Bonneville Power Administration was completed by the Independent Scientific Review Panel June 28. One of the projects looked at was the Kootenai Tribe's Kootenai River Restoration Project.
Free sports physicals just around the corner: Do you have students in grades 7, 9, or 11 who plan to participate in sports, including cheerleading, in the upcoming school year? Then according to the Idaho High School Activities Association, these students will need to have a physical before the first practice starts.
ITD gearing up for Great American Eclipse: It's just shy of one month away from the biggest astrological event in the Gem State since 1979. Dubbed The Great American Eclipse, it could also be the biggest tourist attraction and traffic generator in Idaho history.
Warmer than average temps expected: The Pacific Northwest should expect continued warmer-than-average temperatures and normal rainfall August through October, according to a new long-term climate outlook developed by the NOAA Climate Prediction Center.

Does that man have a panty on his head? Thirteen, fourteen, fifteen, sixteen ... "What are you doing to my panties, you sicko?!" "Ahhhheeeeeee!" I cried. "My precioussss, it is," I hissed, cuddling the bundle of panties to my chest as I scurried to the corner. Musings from Moyieboy by Ken Carpenter
'Pollinator in Peril' events slated in Sandpoint: A noted bee expert will headline a "Pollinators in Peril" series of events in Sandpoint Tuesday and Wednesday, August 1-2, focusing on the importance of pollinators and how to help them.
I-95 work planned in Plummer: Idaho Transportation Department crews will be working Wednesday and Thursday (July 26-27) to repair an older asphalt section of U.S. 95 in Plummer damaged by the recent winter.
July 23

Five injured in three vehicle crash near Elmira: A three vehicle collision on Highway 95 near Elmira this afternoon sent five people to the hospital and closed the highway for nearly five hours, backing traffic on the north end clear to Naples.
July 22

Museum building a century old!
In the fall of 1916, Charles W. Megquier began construction on a two story brick building on Main Street. This was to be used as the new Crescent Garage & Plumbing Company. Today, members of the Boundary County Historical Society and folks who shared parts of the building's history regaled guests with tales venerable century-old edifice.

Ahrens announces run for Idaho Senate: Danielle Ahrens, a 58 year old mother and grandmother who lives on a ranch north of Sandpoint, recently announced her candidacy for the Idaho Senate in District One in an article in Redoubt News.
July 21
Lightning sparks several North Idaho wildfires: The Idaho Panhandle National Forests had multiple new fires detected following the Thursday night lightning storm. Here is an update on fire activity across the forest ...
July 20
Summer Reading wrapping up with magic show: The Boundary County Library will wrap up their Summer Reading program with an awesome comedy magic show for kids and families at 1 p.m. Wednesday, July 26, at the Boundary County Fairgrounds.

Bonner County sheriff seeking David Xanatos: The Bonner County Sheriffs Office is requesting the public's assistance in locating David A. Xanatos, 37, last known to have been in the Clark Fork area. Vehicle associated with him is a blue 1988 Chevy truck with Idaho plate 7BL6090. He is described as 6-foot, 3-inches tall, 244 pounds, hazel eyes and brown hair.
Last drivers ed class of year starting: The final driver education class of the summer begins August 1. There will not be another class until spring. The class is $325, with classes held Tuesday and Wednesday mornings.
Nutritional aide needed at BCH: Boundary Community Hospital has a part time position (afternoon/evening/weekends) in Nutrition Services. The Nutritional Aide is responsible for a variety of duties and services to ensure appetizing food is prepared and served.
Polaris seeking workers: Bonner County Job Service will hold a job fair to help Polaris is find eight assembly operators, no experience needed. These are full time, temporary positions starting July 24 and ending October 5.

Woodward running for Senate seat: In the wake of Shawn Keough's decision not to seek another term as Idaho's favorite Senator, Jim Woodward, a long-time Bonner and Boundary County resident, recently announced his candidacy for the Legislative District 1 State Senate seat with Keough's full blessing.

Newest Habitat home to be dedicated: Boundary County Habitat for Humanity invites you to attend a Ribbon Cutting Ceremony and Open House for their latest build! This event will take place at 10 a.m. Saturday, August 5, at 6707 Spokane Street in Bonners Ferry. Habitat volunteers have been working on this project for the past year and are excited for their latest partner family.
More News →
Letters & Opinions
Rosanne Smith: So it begins. The boxes, the pleas, the fundraisers, the woe are the children of Boundary County. Well, for the third year in a row, Boundary County School District 101 has received $2.4 million per year. That is $200,000 a month.
Rosanne Smith: I was wondering what the county "PIO" (Public Information Officer) duties are? The title itself seems self-explanatory. Or so I thought.
Howard Kent: In the August 29, 1957 edition of the Bonners Ferry Herald, there appear an article by an individual who referred to himself as the "Rock Creek Stump Ranch Philosopher." He signed the article simply as J. A. Is it possible that some of our older local dudes and dudettes may recall the identity of the mystery writer?
More Letters →
Sports & Outdoors

Badger football practice less than two weeks away: It's less than two weeks until Bonners Ferry Badger football's first practice on Monday, August 7. At 5 p.m., coaches and staff will be collecting paperwork, at 5:30 p.m. there will be a parent's meeting on the football field bleachers.
Casting for the bulls: fishing for Idaho's bull trout: They're big, they're hard fighting, and they're one of Idaho's most overlooked trophy fishing opportunities, but many anglers are still confused whether they can target bull trout for catch-and-release fishing. The short answer is yes.
Drawing coming for KNWR deer blind for disabled hunters: The Kootenai National Wildlife Refuge will conduct a random drawing on August 15 to award 10 hunters with disabilities a special Deer Hunt Permit. Hunters must provide proof of a valid Idaho Disabled Hunting License prior to the drawing.
More Sports →
Obituaries
Myrtle Lucille Pries, January 10, 1927 ~ July 6, 2017
Robert Raymond Gruber, 91, was called home to his family July 19, 2017. Visitation will be at Schnackenberg & Nelson Funeral Home on Wednesday, July 26, from 5 to 7 p.m., with Rosary following at 7 p.m. Funeral Mass will be held by Father Richard Kluk at 11 a.m. Thursday, July 27, at St. Joseph Catholic Church.
Samantha Joann Wolf, 31, went to be with the Lord the morning of Saturday July 15, 2017, due to injuries received in an automobile accident. Services will be held at 11 a.m. Wednesday, July 26, at North Summit Church, N201 Division Avenue, Sandpoint.
More Obituaries →
Search News Bonners Ferry:
Loading
Social News
Sias celebrates 100th birthday: After flying back from the east coast, where she celebrated her 100th birthday June 25 with her two daughters, Boundary County friends feted Elizabeth Sias, Moyie Springs, with a Hawaiian-themed luncheon today at the Chic n'Chop Restaurant.
More Social News →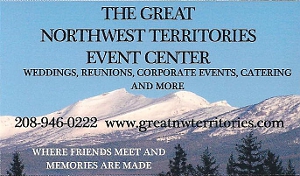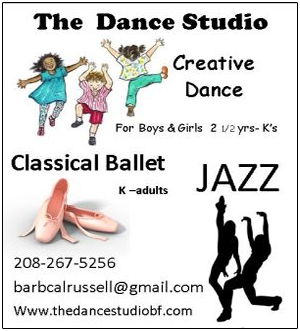 Events
Thursday, July 27
Garage Sale, 8 a.m. to 7 p.m., 36 Winter Road Moyie Springs, approximately 3/4 mile up Old Highway 2 Loop. No early birds please!
Attention Senior Citizens: Drivers Safety Class! 8:30 a.m., Bonners Ferry Hospitality Center, 6635 Lincoln. This half-day course is open to the public, but it is geared especially for seniors. No driving or written test is required. Class size is limited, so pre-register by calling Orrin Everhart, 267-6284.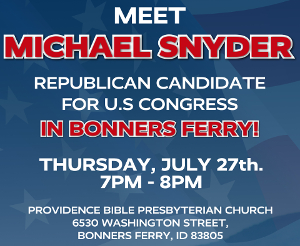 Friday, July 28
Garage Sale, 8 a.m. to 3 p.m., 36 Winter Road Moyie Springs, approximately 3/4 mile up Old Highway 2 Loop. No early birds please!
4-H Friday Friends Scavenger Hunt, 8 a.m., Snow Creek Pond. To register your child, call (208) 267-3235 or stop by the Boundary County Extension Office, 6447 Kootenai Street, Bonners Ferry.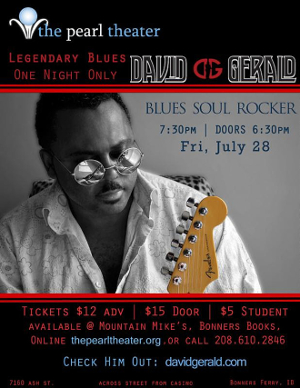 Saturday, July 29
Boundary County All Class Reunion


To stay up on details, visit and "like" the All Class Reunion Facebook page!
Bonners Ferry Farmers Market Kid's Day, 8 a.m. to 1 p.m., Bonners Ferry City parking lot.
Huckleberry Pancake Breakfast, 8 a.m., Boundary County Airport.
Boundary County Museum open 9 a.m. to 5 p.m., 7229 Main Street, Bonners Ferry.
Paradise Valley Fire District BBQ, 11 a.m. to 2 p.m., 2492 Paradise Valley Road. Meet the new chief, commissioners, firefighters and cadets, their new trucks and training facilities! Hamburgers, hot dogs, cold drinks, salads and fun!
Terry Davis Memorial Arm Wrestling Competition, 2 p.m., Rusty Moose Tavern and Grill, 7211 Main Street, Bonners Ferry
All Class Reunion Opening Ceremony, 7:30 p.m., downtown Main Street.
All Class Reunion Street Dance, 8 p.m., downtown Main Street.
Monday, July 31
Four-Church Vacation Bible School Day Camp, 10:30 a.m. to 4:30 p.m. through August 4 for kids in grades one through six, 10:30 a.m. to 12:15 p.m. for kids four and five years old. Trinity Lutheran Church, 6784 Cody Street, Bonners Ferry. For information, call (208) 267-3033 or visit them on Facebook @ Bonners Ferry Multi-Church Vacation Bible School.
More Events →