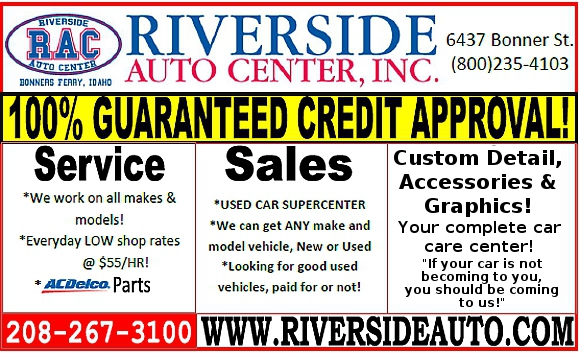 News
Video highlights available for the BFHS Volleyball team's annual October event, "Volley for a Cure" from last night. You can review all the night's action and excitement, all in a 4 1/2 minute highlight reel.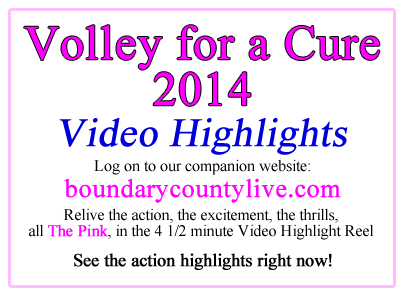 Local fire department observes National Fallen Firefighters Memorial Weekend: The Bonners Ferry Fire Department will host a ceremony at Station 1 downtown on October 11, beginning at noon, in connection with the 33rd annual National Fallen Firefighters Memorial Weekend observance.
Religious, Tribal Leaders Send To U.S. President, Canadian Prime Minister Declaration On Modernizing Columbia River Treaty: Religious and indigenous leaders this week transmitted to U.S. President Barack Obama and Canadian Prime Minister Stephen Harper a "Declaration of Ethics and Modernizing the Columbia River Treaty," which they say should serve as the foundation for international negotiations regarding renewal of the Columbia River
Treaty.
Idaho State Police warns on telephone scam: The Idaho State Police has continued to take new reports from various parts of Idaho of people receiving telephone calls from someone claiming to be from the Idaho State Police.
Meet candidates at upcoming Candidate's Forum: In just 39 days from today, Boundary County residents will be voting in Election 2014 on November 4. Local voters have a great opportunity coming up to meet with candidates and to personally submit questions and issues of concern at a Candidate Forum scheduled for Tuesday, October 7.
Boundary County Fair 2014: A Fair to Remember!
Boundary County Fair 2015: Contest starts now:
The 2014 Boundary County Fair is a fair to remember with the storm that blew through on Friday. Boundary County will be celebrating its centennial in 2015. The Boundary County Fair Board is sponsoring a contest for the 2015 fair theme and artwork for the cover of the fair book.
CASA event raising funds to help abused, neglected children: The North Idaho CASA (Court Appointed Special Advocate) serves abused and neglected children in the five north Idaho counties. The program is inviting the community to attend the 2nd Annual "CASA Uncorked" event to help support the volunteers vital to the organization.
Studded tires legal on Idaho's highways beginning October 1st:Drivers can once again use studded tires on Idaho roadways beginning Oct. 1, the Idaho Transportation Department announced.
Idaho state law allows the use of studded tires October 1 - April 30 each year.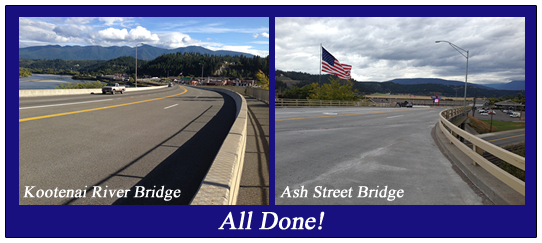 U.S., Canada consider revisiting Columbia River Treaty, which includes Libby Dam: Tuesday, September 16 marked the 50th anniversary of the ratification of the Columbia River Treaty. This U.S. and Canadian treaty involves extensive issues on management of the Columbia River system, one part of which is the Libby Dam. This comprehensive article from the Columbia Basin Bulletin examines details of the treaty, and current discussions on revisiting that accord.
Boundary County employment rates improving: Unemployment figures for Boundary County trended downward and are improving in

the latest numbers from the Idaho Department of Labor. We know government statistics can sometimes be dazing and hypnotic--that's why we tried to jazz this up with some useful InfoGraphics. Take a look and see what you think.
Five years in the making, Boundary County resident publishes book: Here's what you do in Boundary County: check the timber and lumber industry for hidden authors. That's where you will find McCallum Morgan, whose book A Hole in the Ice, was just published a couple of weeks ago.
Interest expands in Botkin Bonners Ferry song: It's been gathering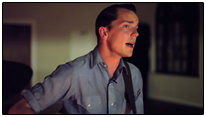 momentum around the worldwide web: Boundary County resident Daniel Botkin, his band Runaway Symphony, and one of their songs--a song about a town in North Idaho . . .
Historical Society offers tour of cemetery: Would you be interested in learning more about Grandview Cemetery, its history, and details on some of the prominent people of Boundary County's past? The Boundary County Historical Society is sponsoring a Historical Walking Tour of the old section of Grandview Cemetery.
New owner for ET Wireless: ET Wireless, the cell phone sales and service business, located on Bonners Ferry's south hill since 2007, was recently sold to a local businesswoman and is now under new ownership.

A Boundary County Gem: The Dance Studio: So, would most people be surprised to learn that rough, tough, and rugged Boundary County is home to a dance studio, whose graduates from its graceful instruction in creative dance, jazz dance, modern, and ballet are now scattered across the USA?
More News →
Letters & Opinions
Alan and Debbie Flory: Tucker brings experience: "will bring fresh new energy as our County Commissioner."
Greg Johnson: Tucker will move county forward: "Tim Tucker represented North Idaho well during his 13 years in the state legislature . . . "
Rebecca J. Huseby: Supports Scott for District 1A Idaho House of Representatives: "A refreshing perspective on politics! There is an old-fashioned air of Americanism about this vibrant little woman . . . "
Don Jordan: Supports Tucker for county commissioner: "Tim will be a County Commissioner who will represent ALL of us, with experience and dedication! He served us for 13 years in the Idaho State legislature . . ."
Fish and Game Director Virgil Moore: Idaho, Montana, Wyoming wildlife directors comment on wolverines: "For the record, our states opposed the Service's original recommendation to list wolverines . . ."
More Letters →
Sports & Outdoors

Badger cross country at Plantes Ferry meet: Battling against the heat and high-level competition, the Badger cross country team gave it their best shot at the Plantes Ferry meet in Spokane.
Fish and Game: How to legally recover roadkill: We have to admit it: This is a subject that secretly we all sort of wonder about, but publicly, we all turn up our noses in disdain: roadkill. And we're not just talking about roadkill, we are talking about salvaging roadkill.
All hunters and anglers required to stop at check stations: Throughout the deer and elk seasons, Idaho Fish and Game (IDFG) will be running check stations to collect data on hunter and angler success. Idaho Code requires that "all sportsmen, with or without game, must stop at Fish & Game check stations."
Fish and Game releases area fish stocking information: Looking for some ideas on spots where you can do some fishing this fall?
More Sports →
Obituaries
Dale Joseph Albertson: August 2, 1951 - September 24, 2014
Leon Leo Joseph Dlug: March 16, 1938 ~ September 28, 2014
Jerre Caroline Stemmene: November 25, 1927 ~ September 19, 2014
Ronald Dale Nystrom: November 5, 1932 ~ September 13, 2014
Hallie L Olson: September 16, 1970 ~ September 14, 2014

(complete obituary now available)
John Joseph Wanner: June 14, 1927 ~ September 4, 2014
Louie Abraham: September 29, 1985 ~ September 4, 2014

(complete obituary now available)
More Obituaries →
Search News Bonners Ferry:
Loading
Weather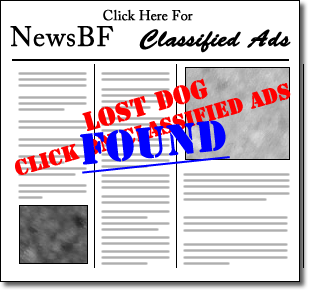 Social News
More Social News →
Schools Information
Valley View:
Principal Pflueger Press, Aug 25
Valley View:
Principal Pflueger Press, Sept 17
Local Government
Boundary County:

Commissioners, Aug 25
Boundary County: Commissioners, Sept 2
Boundary County: Commissioners, Sept 8
Bonners Ferry:
City Council, Aug 12
Bonners Ferry:
Agenda for Sept 16 City Council
Events
Sunday, September 28
A Farewell Reception for Deacon Joe and Lorraine Nicholas will be held on Sunday, September 28, following the 9:00 a.m. Mass, at approximately 10:15 a.m., in St. Ann's Parish Hall, 6712 El Paso Street. All their friends are welcome.
More events below, or go to Events Page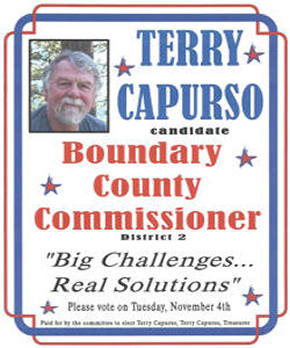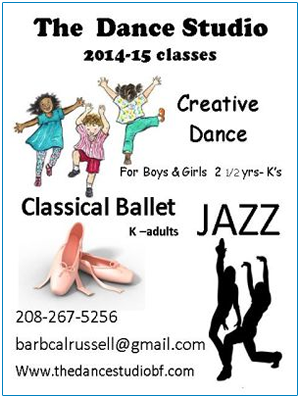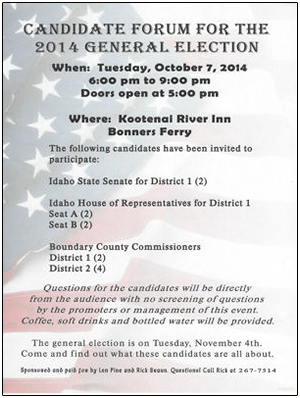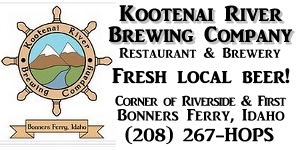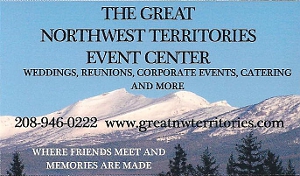 More Events →