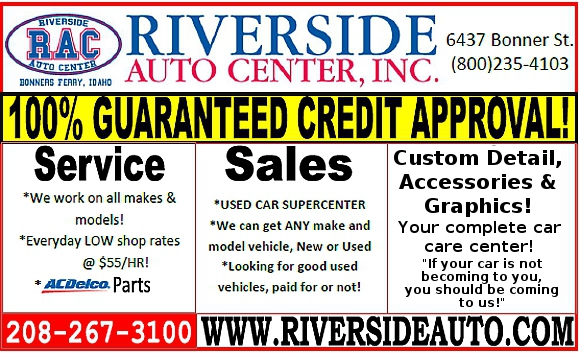 News
Turkey Trot 2015, on Thanksgiving Morning: We have posted a few photos from the Thanksgiving morning event. Click on the headline to view.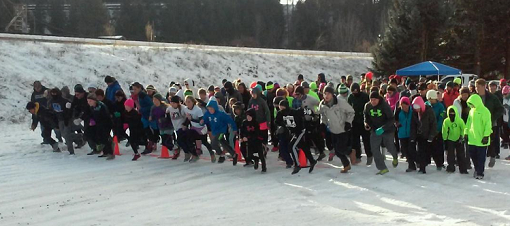 Champion Big Trees of Idaho; some are located in Boundary County: You don't have to travel far to see some of the record biggest trees in Idaho—some of them are located right here in Boundary County. Click on this story to see the details on Idaho's Big Tree Program, managed by the University of Idaho Extension Forestry.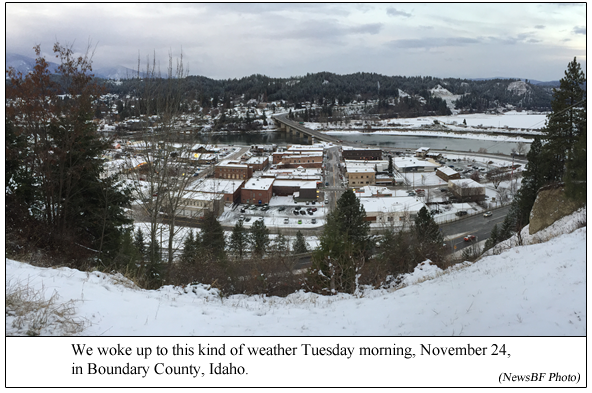 Annual Holiday "Festival of Trees" coming up: The Fry Healthcare Foundation is bringing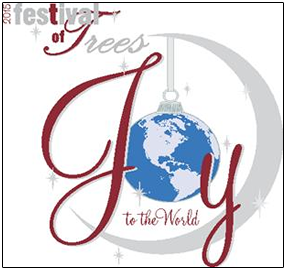 "Joy to the World" with this year's 20th Annual Festival of Trees Event, held at the Boundary County Fairgrounds in Bonners Ferry on Friday, December 11 and Saturday, December 12, 2015.
Senators encourage providing full funding for rural county program: Idaho Senator Mike Crapo has teamed with Colorado Democrat Michael Bennett to spearhead a coalition of senators who sent a letter to senate leadership recommending full funding for the Payment in Lieu of Taxes (PILT) program in any end-of-year legislation. This program has been an important source of funds for Boundary County and other local government entities around the nation.
In the aftermath of Tuesday's storm . . . : Power continues to be out for approximately 50 households in Boundary County in the wake of Tuesday's high velocity winds and driving rain storm that swept through the Pacific Northwest, including northern Idaho and Boundary County. Other damage also reported.

Dazzling Night of Nativities and Carols coming in 2 weeks: Last year, at the first-ever Night of Nativities and Carols in Boundary County, over 130 Christmas nativity scenes were on display in a beautifully-decorated Christmas atmosphere. This year, planners are anticipating far more displays, and are inviting all to come and see these unique pieces of Christmas art.
Mayor Anderson honored for work with KVRI: Last Monday's meeting of the Kootenai

Valley Resource Initiative had the usual business and discussions on best uses of resources in Boundary County, but also one other important item on the agenda.

$4 million proposed upgrades to Riverside Road would improve access to Refuge and other federal lands: Boundary County's Riverside Road would become a bigger, safer, and more widely-accessible road if Congress approves nearly $4 million in funding, under a recent proposal to make major upgrades to that route.
Update 11:30 p.m., Tuesday, November 17:

Severe storm blows through Boundary County with high winds, heavy rains: An update thrown together from available information on the storm that crashed through the Northwest and Boundary County on Tuesday.

Bonners Ferry Distinguished Young Women Program seeking volunteers: The Committee of the Bonners Ferry Distinguished Young Women Program is looking for individuals

interested in joining the committee to help with the upcoming year's program. This story tells how you can help a great program to succeed.
Naples Christmas Holiday Festival is set: A big, busy, fun day of great activities have been set for the Naples Holiday Festival, set for Saturday, December 5. Click on this story to see all the great events, goodies, and excitement that are planned.
Governor announces new Idaho Medal of Achievement: Idaho Governor Butch Otter recently announced the creation of a new award whose intent is

to honor those who have rendered notable service to Idaho and its people. The award is the highest civilian honor conferred by the State of Idaho, recognizing individual Idahoans for their "exceptional, meritorious, and inspirational" service to the people of Idaho.
More News →
Letters & Opinions
Rosanne Smith: Says government entities should be reporting financial information
Kirk Dixon: Concerns regarding Muslim immigration
Jerry Higgs: Nomination for Idaho Medal of Achievement
More Letters →
Sports & Outdoors
Fish and Game conservation officer frees tangled buck; video goes viral: It wasn't an average day at the office for Idaho Fish and Game Conservation Officer John McLain when he encountered a white-tailed buck tangled in baling twine, but his average days don't go viral on the Internet, either.
2015 Cross Country awards announced: Bonners Ferry High School Cross Country held their end-of-season awards banquet last Thursday. Several Badgers made the All-League list of Cross Country runners, and individual awards were also given.
Interested in wolf trapping? Required course available in Coeur d'Alene: Idaho rules require a Wolf Trapper Certification course be completed and passed before a person can purchase wolf trapping tags.

Badger Cross Country competes at Idaho State Championships: Badger cross country season came to an end on October 31 at Farragut State Park at the Idaho State Championships. Runners from all over the state converged on a rainy North Idaho state park to compete in the largest ever Idaho state cross country meet.
More Sports →
Obituaries
Diana J. Watters: October 1, 1949 ~ November 20, 2015
Sheila Marie Peterson: December 6, 1940 ~ November 18, 2015
Larry Gene Cruthers: April 28, 1940 ~ November 18, 2015
Martha Susan Plew: April 19, 1944 ~ November 18, 2015
Dan Dean Wilson: October 10, 1927 ~ November 13, 2015
Rev. Lowell O. Carlson: July 03, 1929 ~ November 12, 2015
Velda Fern North: July 13, 1931 ~ November 10, 2015
Evelyn Lorriene Eby: June 16, 1929 ~ November 5, 2015
Darold Ray Bryan: February 14, 1931 ~ November 1, 2015
More Obituaries →
Search News Bonners Ferry:
Loading