News
December 16
Winter snow advisory issued: The National Weather Service has issued a winter weather advisory in North Idaho for snow and slick conditions, in effect from 10 a.m. Sunday through 10 a.m. Monday. Two to four inches of fresh snow are forecast for the valleys; higher elevations could see up to eight inches.
December 15

Woman injured in December 1 collision dies: A woman severely injured in a December 1 head-on collision on the North Hill lost her fight for life today. Jennifer R. Jones, 39, of Ponderay, succumbed to her injuries at Harborview Medical Center, Seattle, today at 5:40 p.m. She leaves behind three children.
The 2018 Fair Theme has been announced!


"Shout n' Loud ~ We're County Proud"


August 15 through 18

Saturday "elf" matinee a great chance to shop: The Pearl Theater will show free holiday movie Saturday, and it's a take on the golden days when the Rex Theater used to offer a free holiday movie each year. It's a great time for the parents to sneak away to some of Boundary County's wonderful shops or stores to get some Christmas shopping done!

Eight graduate BFHS CNA program: Congratulations to Bonners Ferry High School's recent Certified Nursing Assistant graduates! The Certified Nursing Assistant program is offered to Bonners Ferry High School students by Boundary Community Hospital in affiliation with North Idaho College.
Yoder's Market getting ready for big move: Yoder's Market will be closed January 12 to 15 for moving the store from Bonners Ferry to their new location near Three Mile, and plans are to reopen at the new store on the west side of Highway 95 three miles north of Bonners Ferry on Tuesday, January 16!
Driver's licensing offices back online: The Idaho Transportation Department (ITD) has corrected the issues in its driver's license computer system and restored full service to county offices. Idahoans who delayed getting a license renewed during the outage are encouraged to visit their county DMV office for service.
Fair board has a vacancy: The Boundary County Fair Board is seeking letters from county residents interested in filing a board vacancy after member Craig Kelson elected not to renew for another term. County commissioners and members of the fair board extend their appreciation to Craig for his time and service in helping to make the Boundary County fair a success.
County Commission agenda - week of December 18
County Commission minutes, October 9
County Commission minutes, October 16-24
County Commission minutes, October 30
County Commission minutes, November 13
County Commission minutes, November 20
December 14

Beware of too good to be true holiday offers: Much like the citizens we serve, law enforcement personnel take crimes during the holiday season just a little bit harder than at other times. It's supposed to be a season of good cheer, of generosity and giving, but sadly, thieves know this and do their best to turn it to their advantage. Community Watch, by Sheriff David Kramer
December 13
Court dispositions and sheriff's log

Ray and Beth get a Christmas surprise: Cold, dreary, grey, uneventful and nothing going on much at the Wildhorse Mercantile and Saloon, but aren't we lucky to be here? Christmas is coming and what a surprise Ray and Beth Holmes got Wednesday night when they found out David, a master chief in the U.S. Navy and their youngest, is going to be home this Friday for a few days for a surprise visit!
Audubon bird count drawing near: Local bird lovers will be getting together for an early breakfast on Thursday, December 28, and then scatter to all corners of the greater Bonners Ferry area to take part in the 118th annual Audubon Society Christmas Bird Count. Everyone interested is welcome to join in, even if all you can do is sit at home and count the birds coming to your feeder!
IPNF seeks comment on proposed rate hikes: The Idaho Panhandle National Forests is interested in receiving your comments on a proposal to increase the fees at 11 campgrounds/group sites, 10 cabin and lookout rentals, the Emerald Creek Garnet site, and the Upper Landing RV dump station.

Saving Idaho wildlife – one orphan at a time: Mystic Farm Wildlife Rescue, Sagle, provides care for injured and orphaned fawns in preparation for release back into the wild, where they belong! Due to medical issues and a limited number of volunteers, they will not be holding their annual "Grow More Spots" fundraiser this year.

USFS welcoming two new IPNF leaders: Regional Forester Leanne Marten is excited to announce Holly Jewkes as acting Forest Supervisor on the Idaho Panhandle National Forests, starting January 22. On the Priest Lake Ranger District, Felipe (Phil) Cano will be starting as the new District Ranger starting on February 4.
EAA extends flight scholarship deadline: Experimental Aircraft Association (EAA) Chapter 757 has not received any scholarship applications for the year ahead, and they have extended the application deadline through December 19 in case there is someone out there with a dream of a future in aviation and the willingness to work hard to achieve it.
Historical Society lands IHC grant: The Idaho Humanities Council (IHC), the statewide nonprofit organization devoted to enhancing public awareness, appreciation and understanding of the humanities in Idaho, awarded $72,658 in grants to organizations and individuals at its fall board meeting in Boise.

Be safe on the roads this holiday season, be sober: As the holiday season gets underway in Idaho, the Idaho Transportation Department (ITD) is partnering with law enforcement agencies across the state to remind drivers that Buzzed Driving is Drunk Driving. Beginning today through the end of the year, additional officers will be on the road looking for drunk drivers.
NWA offering $500 sign-on bonus: Northwest Academy in Bonners Ferry has openings for night staff counselors for its female dormitories, and they are offering a $500 sign on bonus for successful applicants!

Shooting added as BFHS extracurricular activity: There's a new club at Bonners Ferry High School, and all BFHS students interested in the shooting sports are invited to check out the recently approved extracurricular activity! The Bonners Ferry Clay Target Youth Club practices every Saturday morning at 10 a.m. at the Bonners Ferry Gun Club.
Already midterm at BFHS: We are cruising through the year at Bonners Ferry High School! I struggle to believe it is already midterm of second quarter, and we are quickly approaching the midpoint of the school year. I am proud of the staff and students at BFHS. Great work is happening here. By Principal Kevin Dinning
Beans, beans the musical fruit: Dried beans have been cultivated as a staple of the human diet for over 9000 years. Interestingly enough, a clue perhaps to the picky society we live in, Beano did not make an appearance until the last half of the 20th century. Musings From Moyieboy by Ken Carpenter
More News →
Letters & Opinions
Marc Hansen: Regarding "Open house set on $9.4-million highway project:" You guys are going to create a horrible choke point by the casino area in both directions by following this stupid plan. Do you live in this county?
Rosanne Smith: From "Superintendent's Scoop" December 4, 2017; "That said, the construction of the high school greenhouse cost more than I anticipated -- $10,000 more!" Am I the only one who wonders where the $2.4 million a year goes?
More Letters →
Sports & Outdoors
Badger boys fall to Grizzlies: The Badger boys traveled to Newport, Washington, Thursday night, where they fell to the Grizzlies 74-38 to drop their season record to 3-2.
Girls win, boys fall to Bulldogs: The Badger girls pulled off a win in the house of the Bulldogs Saturday, keeping their winning streak so far this season alive at five with a final score of 65-52. The Badger boys put up a tough fight, but couldn't over come a second quarter deficit and suffered their first loss of the season to the Bulldogs, 75-66.
More Sports →
Obituaries
Jim R. Hill M.D., 82, Bonners Ferry, passed away quietly on Monday December 11, 2017 at his home. There will be a celebration of life for Jim in the summer of 2018.
John Stuart McClelland, 1933 ~ November 26, 2017
Charlotte Rae (Carter) Perin, 76, passed away on Friday, December 1, at Alderwood Manor in Spokane. A celebration of life will take place at 1 p.m. Sunday, December 17, at Millwood Presbyterian Church, N3223 Marguerite Road, Spokane Valley.
More Obituaries →
Search News Bonners Ferry:
Loading
Happy December 17 birthdays go out to Audrey Frederickson, Mathew Brown, Jesse Harman, Donna Kent and Spencer Ratcliff!
Social News

Firefighting brothers honored: Paradise Valley Fire District is proud to announce our first ever tie for the Firefighter of the Year award. This year, they voted to bestow this great honor on a pair of brothers.

Banning joins Army infantry: Army Private Dillain Banning, the son of Jesse and Katie Banning, Bonners Ferry, graduated today from Army basic training and advanced infantry training at Fort Benning, Georgia, as his parents and siblings looked on.

Lavala USAF basic honor grad: U.S. Air Force Airman Isaac D. Lavala recently graduated from basic military training at Joint Base San Antonio-Lackland, San Antonio, Texas.
More Social News →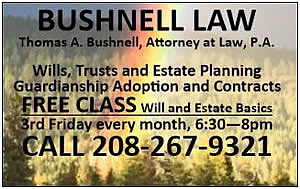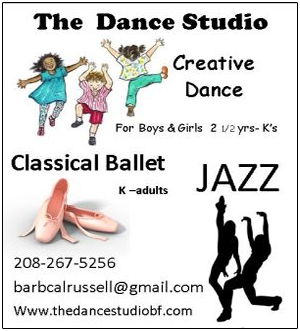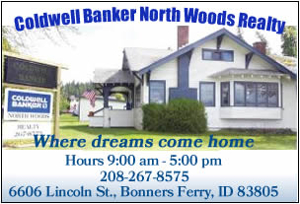 First half tax deadline just ahead


Boundary County Treasurer Susan M. Larson would like to remind all Boundary County taxpayers that the deadline for paying the first half of the 2018 property taxes without penalty is Wednesday, December 20.
Events
Sunday, December 17
Bonners Ferry Community Choir Christmas Concert, 3 p.m., Trinity Lutheran Church. Celebrating 40 years under the direction of conductors Vicki Blake Thompson and Barb Nelson, who are presenting their final community choir Christmas concert together.
Monday, December 18
Fab Lab classes, 1 to 7 p.m. by appointment. Boundary County Library. To reserve your class, call 267-3750.
Bonners Ferry High School/Boundary County Middle School Holiday Choir Concert, 7 p.m., BFHS Becker Auditorium.
Tuesday, December 19
Troy Trojan Basketball, 2 p.m., home vs. Libby.
Computer Tutor, 1 to 4 p.m. by appointment, Boundary County Library. For more information, call 267-3750.
Badger Girls JV Basketball, home vs. Lincoln County High School, Montana, 5:30 p.m.
Badger Boys JV Basketball at Wallace, 5:30 p.m.
Valley View Elementary Christmas Program, 6 p.m., Boundary County Middle School.
Bonners Ferry City Council Meeting, 7 p.m., Bonners Ferry City Hall. To find out more or to get scheduled on the agenda, call (208)-267-3105.
Badger Girls Basketball, 7 p.m., home vs. Lincoln County, Montana.
Badger Boys Basketball, 7 p.m. at Wallace.
Wednesday, December 20
"Merry Christmas" Storytime, 10:30 a.m. and 1:30 p.m., Boundary County Library, 6370 Kootenai Street, Bonners Ferry. For more information, call 267-3750.
Joint Community Christmas, 6 p.m., Bonners Ferry High School Becker Auditorium. Everyone is invited! Old time Christmas carols, special music by local artists, a very special Christmas message and a time to celebrate and reminisce with friends and neighbors. This isn't just for "church folks," it's for everyone! Sponsored by the Boundary County Ministerial Association.
Troy City Council Meeting, 7 p.m., city hall, E301 Kootenai Avenue.
Thursday, December 21
Christmas Break in Troy Public Schools through Wednesday, January 3.
Last day of classes in School District 101 schools before Christmas break! Classes resume January 8.
Adventures in Mothering, 9 a.m. Mountain Springs Church, 6789 Main Street, Bonners Ferry. For mothers of all ages!
Trojan Basketball, noon, home vs. Thompson Falls.
Badger Boys JV Basketball, 5:30 p.m., home vs. St. Maries.
Badger Boys Basketball, 7 p.m., home vs. St. Maries.
More Events →