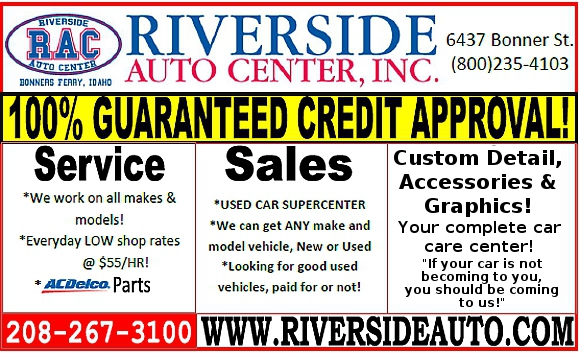 News

Museum celebrates donation of Kootenai Tribe artifacts and photographs: A unique and noteworthy collection of Kootenai Tribe art, artifacts, and photographs was unveiled for public display at the Boundary County Museum last Saturday, February 21. And of course, there was a celebration and special presentation also.
Distinguished Young Women gearing up for swash-buckling pirate fun: Nine of Bonners Ferry's most outstanding junior girls will be given an opportunity to win scholarship money and prizes in this year's annual Bonners Ferry Distinguished Young Women Scholarship Program (formerly Junior Miss).
Runaway Symphony a hit in Bonners Ferry performance: Last Saturday night, a large

crowd of a few hundred people gathered at the auditorium of Bonners Ferry High School to enjoy an evening concert by the Moscow, Idaho-based band Runaway Symphony. Why so much local interest in this band?
NIC Dean's List honors local students: North Idaho College recently announced its Dean's List for Fall Semester 2014. And we've got several Boundary County students on that list. Check this story to learn more.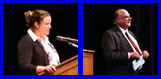 Public meets two applicants for School Superintendent position: The search is well underway for a new Superintendent for Boundary County School District 101. Current Superintendent Richard Conley announced his retirement a couple of months ago. The District has been accepting and reviewing applications, and on Friday night held formal meetings and interviews with two individuals the School Board considers to be qualified for the position.
Note: This article contains brief video clips from the public meeting and questions with the candidates.
Keough expresses concern over aging Idaho bridges; several located in Boundary County: It looks like Boundary County has 19 state and local bridges that are age 50 years or more.
Search and Rescue trains for winter ice and water rescues: With spring around the corner, ice on the lakes and rivers is a potential hazard. Boundary County Information Officer Michael Meier reports on how local members of Boundary Search and Dive Rescue Team recently participated in training to renew and update their skills for wintertime ice and water rescues.

ITD presents South Hill highway construction plans at open house meeting: A lengthy section of the highway on Bonners Ferry's South Hill will be updated with a left turn lane, sidewalks, shoulders, new drainage systems, and more. Currently, the Idaho Transportation Department is looking at two different options to update the road. ITD held a public meeting in Bonners Ferry last night to inform residents on details of the project.
Forest Service seeks comments on local area Deer Creek project, a KVRI collaboration: The Bonners Ferry Ranger District of the Idaho Panhandle National Forests (IPNF) is seeking public comments on a forest management project being developed in collaboration with the Kootenai Valley Resource Initiative as part of the Collaborative Forest Landscape Restoration Program.

ITD imposes speed restrictions on Highway 95 north of Mt. Hall junction: The Idaho Department of Transportation will begin break-up speed restrictions on this section Wednesday morning, February 4.
After publishing our article on the ITD travel website and the Boundary County webcam, a reader reminded us of another webcam located in Boundary County. For more information on this, see our Letters to the Editor.

ITD travel website contains helpful winter travel information; it even has a Boundary County webcam: Got a winter driving trip coming up? You may be glad to know that the Idaho Transportation Department maintains a website with some great information on highways and mountain passes throughout the state. You can even view a Boundary County highway location on an ITD webcam.
Chamber of Commerce issues silver coin commemorating Boundary County

Centennial: As planning for the Boundary County Centennial celebration progressed, the folks at the Bonners Ferry Chamber of Commerce had an idea. Working with the Sunshine Mine, the Bonners Ferry Chamber of Commerce commissioned a special silver coin, commemorating the Centennial of Boundary County.
More News →
Letters & Opinions
Greg Johnson: We pay less tax for schools now than 10 years ago
Niki Weaver: The school levy, taxes, and funding education
Boundary County School District Parent Advisory Council: We may not always agree with School District spending
Alyssa Pinkerton: Appreciates her day spent at Boundary County Middle School
Larry Bauer: Says Senator Keough's concern for bridges is something new
Gary Pflueger: Recommends upcoming levy.
Virgil Moore, Director, Idaho Fish and Game: Idaho Fish and Game tells advocacy groups to stop crying "Wolf": "It's important for state agencies to understand and respect differing points of view. But when a few advocacy groups try to grab headlines . . . "
Jacob Bushnell: There's also another webcam in Boundary County . . .
More Letters →
Sports & Outdoors

Badger Basketball: Three named to All-League Team: See photos of the Badger boys basketball players named to this year's All League team, also photos of the senior players on the team.
Kootenai Refuge sponsors evening Owl Calling event: We look forward to seeing you at the Refuge for the Friday, February 27 Owl Program. All the details are in this article.
Don't get stuck in the Autumn rush--sign up for Hunter Education now: Every autumn as the leaves begin to change, thousands of Idahoans begin to focus on one thing: heading to the back country to hunt. If you are new to hunting, you must first complete a hunter education course. Far too often, new comers learn that they have waited too long to sign up, and finding a class is difficult.
If you're anticipating steelhead fishing on the Clearwater River, here's the story you're looking for: This winter has been a good one for steelhead anglers in Idaho; especially on the Clearwater River. There are plenty of fish still moving through the system, and the best is yet to come.
Idaho wolf population remains well above federal recovery levels; livestock depredations down: Idaho Fish and Game Staff Biologist Jim Hayden's recent report on Idaho wolves offered three key messages: Idaho's wolf population is well above all standards for a recovered population; wolf monitoring was intensified and expanded in 2014; needs and expectations for predation management vary widely across the state.
More Sports →
Obituaries
Harvey Lester Pedey: August 10, 1939 ~ February 11, 2015
Wanda Renee Stevenson Gustaveson: March 09, 1937 ~ February 12, 2015
Terry Ann Paulus: December 22, 1921 ~ January 20, 2015
Roberta Rae Chase: February 28, 1937 ~ February 1, 2015
More Obituaries →
Search News Bonners Ferry:
Loading