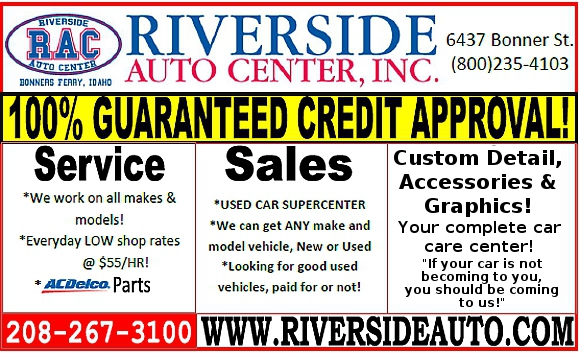 News

Distinguished Young Women Program is tonight:

Tonight is the night for this year's Bonners Ferry Distinguished Young Women, 2016. The event, with this year's theme of "Around the World in 80 Days," promises to be a scintillating and fun-filled event.

Bonners Ferry Fire Department wins $52,000 in fire gear in nationwide contest: The City of Bonners Ferry Volunteer Fire Department just won a nationwide contest, scooping up first prize of over $52,000 in firefighting gear. The contest they won? A dance video contest.

Badger Girls Softball, Boys Baseball sweep all games vs Timberlake on Saturday, four games to none; both Badger teams now alone in first place in Intermountain League: Brief summary and photos of the Girls' game included here. Full story and photos on the Boys' game is in our Sports section.
Shaleyna Higgins ends busy year as Distinguished Young Woman: Shaleyna Higgins will

take the stage at the Becker Auditorium one final time on April 30 as the Distinguished Young Woman of Bonners Ferry to welcome a new recipient of the title.
Details on new Bonners Ferry Shopko Hometown store announced at Chamber of Commerce dinner meeting: A representative from the Shopko company was in town last

night, and presented details and an update on the new Bonners Ferry Shopko Hometown store now being constructed on the South Hill. You can read those details by clicking on this story.

New Boundary County businesses discussed at Big Ideas Dinner: Big Ideas were shared at last night's Bonners Ferry Chamber of Commerce Big Ideas Dinner 2016. Along with dinner, Chamber of Commerce officers presented details for upcoming events being planned for Boundary County, and several local entrepreneurs presented summaries of businesses they are developing. The evenng included an update on the status of Bonners Ferry's new Shopko store currently being built on the South Hill.

St. Ann's Catholic Church building destroyed by fire, arson

suspected: Reports are that police have identified a suspect. Investigation continues. Congregation will be meeting in temporary quarters. Several photographs included with this story.
Under court order, comment period is reopened for Caribou Critical Habitat in

Boundary County, Idaho and Pend Oreille County, Washington: The details on the latest little twist in the ongoing caribou controversy in Boundary County.

Boundary County's 2016 "First Baby of Spring": "In observance of agriculture, spring, and new beginnings, Farm Bureau is pleased to announce this year's first baby of spring," said Farm Bureau Chairwoman René Riddle.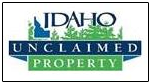 Could some of that Unclaimed Property be yours? Almost half of all Idahoans are listed as having property listed in Idaho's Unclaimed Property database.

Won't be around for May 17 election day? Consider voting an absentee ballot: Not going to be around for the upcoming May 17 Idaho Statewide Primary Election? You can still exercise your voting privilege.

Fairgrounds parking area to be paved soon: One aspect of visiting the fairgrounds will soon become a lot simpler and easier: parking. With the current parking lot's gravel and dust, occasional potholes, low areas that accumulate large pools of water following a rainfall, and its rather random and congested parking arrangement during big and busy events, paving the area should be a welcome improvement.
Boundary County among Idaho leaders in several areas of population growth: What is going on here? According to data released last week by the U.S. Census Bureau, rural Boundary County is among the leaders of all Idaho counties in three measures of population growth: total population increase, percent population increase, and net in-migration.
More News →
Letters & Opinions
Phyllis Dirks: Fire at St. Ann's
Boundary County Historical Museum: Writes to report on updates and programs
More Letters →
Sports & Outdoors
With injured players out, Badgers still win in IML game: The Badger baseball team improved their IML record to 6-0 and 16-2 overall with a 9-1 win over the Priest River Spartans yesterday.
Boundary County Fishing Secret revealed here: Take a look at this story for some big hints about the secret.

Badger Boys sweep Tigers for sole possession of First Place: The Badger baseball team took control of first place in the Intermountain League by sweeping the rival Timberlake Tigers on Senior Day in Bonners Ferry.


Senior Badger Baseball Trading Cards: Collect them all!
Badgers pound Wildcats in IML baseball—invoke mercy rule yet again: The Badger baseball team beat the Kellogg Wildcats 19-6 in Intermountain League play on a sun-soaked Tuesday afternoon yesterday. The win improves their overall record to 13-2 and 3-0 in league.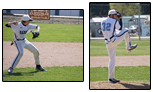 Badger Baseball sweeps Spartan series: The Badger baseball team began defense of their 2015 3A Intermountain League title by sweeping the Priest River Spartans Saturday at Bonners Ferry High School.
Spring Chinook season opens this Saturday: Predicted to be one of the top five Chinook returns since 2000.
Badgers win Colville Invitational: Defeat teams from Colville, Washington and Trail, B.C.
Badgers pound Rams in doubleheader: Dunham pitches first no-hitter of the season.
Badger Baseball keeps on winning; Latest victory features home run, standout pitching, diving catches, double play, and more: The team is playing great; details on their latest win by clicking on this story.

BFHS Cheer and Dance Teams at State Competition; Track Team at Lewiston Invitational: Things have been busy for several BFHS teams in recent weeks. The dance and cheer teams have been to the Idaho State competitions, and the Track Team has already been to a large invitational meet in Lewiston.
Badger Baseball continues on a hot streak, takes two of three games from 4A Sandpoint: Badgers continue strong play, win series with higher-division school.
More Sports →
Obituaries
Dorothy Jean Smith: July 3, 1926 ~ April 26, 2016
William Don Moore: November 28, 1948 ~ April 20, 2016
Joseph (Joe) Swanson: November 27, 1935 ~ April 15, 2016
Sally L Reynolds: August 11, 1930 ~ April 12, 2016
Iva Joyce Mastre Dirks: November 3, 1925 ~ April 10, 2016
Larry Dean Dirks: July 19, 1939 ~ April 2, 2016
More Obituaries →
Search News Bonners Ferry:
Loading