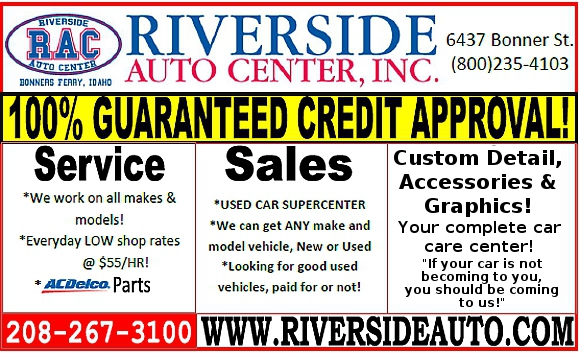 News

The Ferry at Bonners Ferry: 150 years celebrated at the Museum: Fifty cents is what it would cost you to cross the Kootenai River on Mr. Bonner's original ferryboat when it was first established back in December 1864. The Boundary County Museum marked the Sesquicentennial Anniversary (that's the 150 year anniversary) of the beginning of Mr. Edward L. Bonner's ferryboat business. Click on this headline to read about the big celebration event.
Night of Nativities and Carols event dazzles: Can you imagine 133 Christmas nativity

scenes on display in a beautiful and festive setting, with live performances of Christmas music helping to set a tone fitting for a peaceful holiday evening? This remarkable Christmas event was held earlier today, one that is planned to become an annual holiday event in Boundary County.

Lots of Nativity photos included with this story.

Christmas shopping at the Boundary County Museum: Still trying to come up with that last minute unique Christmas gift? Did you know you can purchase some great Boundary County-themed items at the Boundary County Museum?


Moose Madness is tonight. If you have never experienced Moose Madness, consider giving it a look. It is a high energy, noisy, fun-filled experience, featuring fun basketball between Bonners Ferry and Sandpoint, student competitions that take place during breaks in the basketball action, and lots of cheering, bands, and overall madness. Click on this headline to see the details on how Moose Madness works, and all the excitement to be had.

November's Idaho jobless rate under 4%, lowest in nearly 7 years: (But Boundary County's rate goes up). Above average employer payrolls and a declining labor force drove Idaho's seasonally adjusted unemployment rate below 4 percent last month for the first time since early 2008. Boundary County, however, saw a rise in unemployment over last month's figures.
Idaho ranks 2nd in the nation for volunteerism: Over 36 percent of Idahoans volunteered during 2013, the second highest percentage among the states, according to the latest report on volunteerism from the Corporation for National and Community Service and the National Conference on Citizenship.
Moose Madness: here's what it's all about: Why are BFHS students suddenly dressing so

crazily, raising money, and Stomping? Take a look at this article for the inside story on what all the Madness is about this week.
School Board finalizes policies on drug testing and emergency response; plans upcoming M&O Levy request: The Board of Trustees for Boundary County School District 101 met Monday, and among other things, finalized updated policies on drug testing of students, finalized changes to the District's Emergency Response Plan, and came closer to determining the amount they plan to request from voters for the upcoming 2015 Supplemental Maintenance and Operations Levy.
High speed chase in Bonner and Boundary Counties: A high speed chase that started in Bonner County and crossed into south Boundary County occurred last Sunday night on December 14.
Human Rights Task Force hosting art show: The Boundary County Human Rights Task Force is hosting an art show, and is inviting community members to display their artwork of any medium.
Boundary County Library awarded funding for technology center: The Boundary County Library has received two grants, an Idaho Department of Commerce Gem Grant, and a USDA Rural Development Grant, to fund a digital technology center that will equip residents of Bonners Ferry with the new technologies that are becoming increasingly necessary in the modern world.
Follow-up: Idaho teacher wins contest for $100,000 for her school: You may have read a story here at NewsBF recently, where we relayed a request from Governor C.L. "Butch" Otter to help an Idaho teacher win a $100,000 prize for her school. Well, guess what . . . .
More News →
Letters & Opinions
Don Jordan: Museum story
More Letters →
Sports & Outdoors
Fish and Game looking for your input on next year's hunting season: Fish and Game is drafting proposals for the 2015 hunting season, and is seeking public input on proposals to moose, bighorn sheep and mountain goat. Those proposals are now available for public review and comment.
And the Idaho Panhandle National Forest wants your comments on a restoration project: The Idaho Panhandle National Forest (IPNF) is accepting comments for the Treasured Landscapes Prescribed Fire and Whitebark Pine Restoration Project, located on the Sandpoint Ranger District in the Lightning Creek watershed north of Clark Fork, Idaho.
Furbearer trapping course scheduled in Coeur d'Alene for January 16-17: Much of Idaho's history from the early 1800s is linked to trapping. For those who are interested in pursuing modern-day trapping in Idaho, Fish and Game is offering an introductory course in trapper education. Read more about the course by clicking on this headline.
More Sports →
Obituaries
Leonard Charles Kucera Sr.: August 9, 1920 ~ December 16, 2014
Stanley Milo "Bud" Schaller: July 12, 1936 ~ December 13, 2014
Rodney Darrel Imper: September 21, 1943 ~ December 12, 2014
Curtis Clay Tapia: November 26, 1996 ~ December 5, 2014
Michael Joseph LoPorto: January 13, 1950 ~ December 6, 2014
More Obituaries →
Search News Bonners Ferry:
Loading