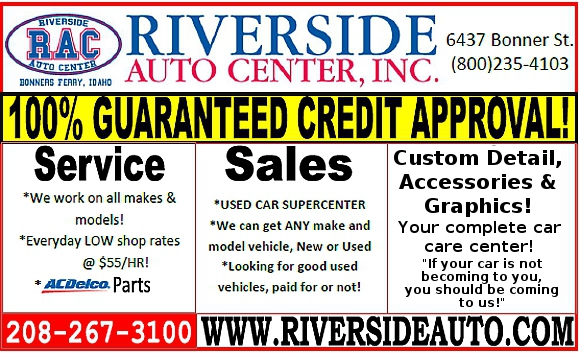 News

Boundary County Memorial Day, 2015: Stories and photos (and a video): The day started off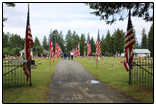 cloudy and a little rainy, but by the time the Boundary County Memorial Day Parade 2015 rolled down Main Street in Bonners Ferry, the weather was holding for a great parade. The parade was followed by a special Memorial Day Remembrance Ceremony held at Grandview Cemetery.
Candidates for School Superintendent meet the public: Two new candidates are being considered for the superintendent of Boundary County School District 101, and both spent their day last Friday in interviews and meetings with District administration and personnel. The day ended in the evening with both candidates being introduced to the public, where they presented information about themselves and took questions from the audience.
Seasonal flow augmentation for Kootenai River white sturgeon gets underway at Libby Dam: Flow augmentation for Kootenai River white sturgeon got underway last Friday.
Boundary Community Hospital Health Fair a tremendous success: Over 700 people attended this year's popular Health Fair hosted on Saturday, May 9, by Boundary Community Hospital. Activities included a fun run, kids bike rodeo, vendors and displays, free lab testing, tours of hospital and emergency equipment, and more.
ITD, law enforcement partners rally against 100 Deadliest Days: Last year, 40 percent of Idaho's fatal motor-vehicle crashes occurred during the 100 days between Memorial Day and Labor Day, according to Idaho Transportation Department (ITD) statistics. The time period between the two holidays, referred to as the "100 Deadliest Days," is when road conditions are at their best, but more lives are lost on Idaho roads than other times of the year due to vehicle crashes.
Results are now in for the Boundary County School District Zone 3 Trustee and Boundary County Library District Trustee Elections, held on May 19. Click on this headline for the election results.
Data emerging on current water outlook: Just a year ago, around this time, NewsBF was putting up stories looking at the possibility of flooding at Boundary County rivers. Readers were posting photos of their pastures with standing water in the fields. This year, just a quick glance at the Moyie River will tell you things are not the same this time around.
Click It or Ticket: Enforcing the law to save lives; Bonners Ferry PD joins in effort: Extra enforcement emphasized around Memorial Day. Chief Vic Watson writes: "If there is one thing I could urge all motorists—drivers, passengers, front seat, back seat, all ages—to do every time you get in a vehicle, it's buckle up. It is the single most effective way to avoid being killed in a crash."

More News →
Letters & Opinions
Jan Spurgin: All are subject to the laws
Arleen MacKinnon: Will miss Huckleberry Variety
Linda Alt: Recommendation for School Board voting
Dave Kramer: Remembering and honoring our law enforcement officers
Barbara Russell: Laments closing of Huckleberry Variety
More Letters →
Sports & Outdoors
Free Fishing Day in Idaho is June 13: Saturday, June 13 is Free Fishing Day in Idaho, and Idaho Fish and Game invites veteran and novice anglers of all ages--residents and nonresidents alike--to celebrate the day by fishing anywhere in Idaho without a license.
BFHS Baseball eliminated at state competition: With the hopes of bringing home a State trophy this year, the Bonners Ferry Badger Baseball team traveled to Ontario, Oregon to compete for the first time in three seasons in the 3A Idaho State Baseball Championship.
More Sports →
Obituaries
Ina Loueen Pluid: December 11, 1937 ~ May 24, 2015
Evelyn R. Holmes: December 3, 1923 ~ May 23, 2015
Bernard (Bernie) Ewald Heinemann: May 26, 1926 ~ May 22, 2015
Darlene K. Pinkerton: November 17, 1947 ~ May 21, 2015
Jerry A. Snyder: March 27, 1959 ~ May 21, 2015
Kermit Lawrence Drake: August 4, 1943 ~ April 30, 2015
More Obituaries →
Search News Bonners Ferry:
Loading
Weather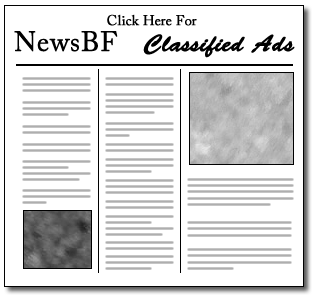 Social News
More Social News →
Schools Information
Valley View:
Principal Pflueger Press, Mar 3
Valley View:
Principal Pflueger Press, Mar 16
Valley View:
Principal Pflueger Press, Apr 21
School District 101:
Agenda for Apr 13 Board Meeting
School District 101:
Agenda for May 11 Board Meeting
Local Government
Boundary County:
Commissioners Minutes, Apr 13
Boundary County:
Commissioners Minutes, Apr 20
Boundary County:
Commissioners Minutes, Apr 27
Boundary County:
Commissioners Minutes, May 4
Bonners Ferry:
Agenda for Apr 24 City Council
Bonners Ferry:
Agenda for May 5 City Council
Bonners Ferry:
Agenda for May 19 City Council
Events
Thursday, May 28
Last day of school attendance for BFHS seniors, Class of 2015
Friday, May 29
The Boundary Soil Conservation District and Farm Bureau are once again offering their free community farm tour. This year's event will head north with a stop at an early settlement, featuring an old barn, a nursery, an elk ranch and a look at a hot house at Elk Mountain Farms. Lunch will be provided along the way. We will meet at the Boundary County Fairgrounds at 8:00 a.m. on Friday May 29. We should return by 4:00, if not sooner. Hope you can make it. Limited seating. Please RSVP at 267-3340 extension 107 or 267-5502.
Saturday, May 30
Graduation for Bonners Ferry High School Class of 2015, 1:00 p.m. at the BFHS football field.
More events below, or go to Events Page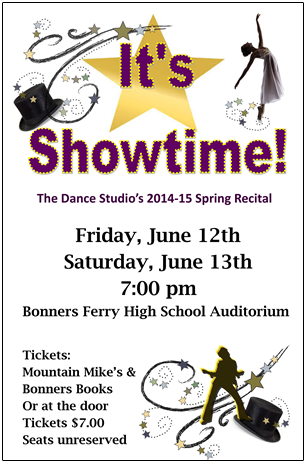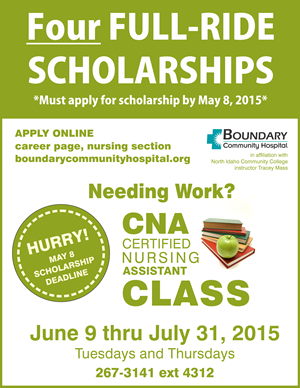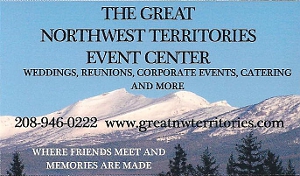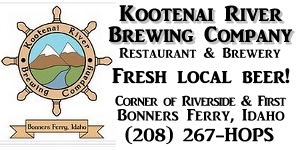 Monday, June 1
The Boundary County Republican Central Committee will meet on Monday, June 1, at 6:00 p.m. at Mugsy`s. Charlene Matheson and Mary Jo Ambrosiani of the North Idaho Federated Republican Women will present an entertaining program. The public is welcome to attend.
More Events →