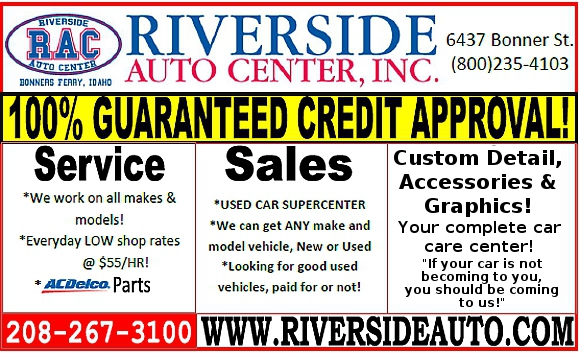 News

Successful Bonners Ferry High School FIRST Robotics Team 2130 Alpha+ enters ninth year: Students, mentors, parents and alumni from Bonners Ferry High School FIRST Robotics Team 2130 Alpha+ met on January 3 for the 2015 FIRST Robotics Competition Kickoff Broadcast. This year's game is "Recycle Rush," and the team hopes to continue the success they have had in previous years.
After publishing our article on the ITD travel website and the Boundary County webcam, a reader reminded us of another webcam located in Boundary County. For more information on this, see our Letters to the Editor.
Hospital Auxiliary Pie Sale is coming up: Picture in your mind tables

full of pies side by side—lemon meringue pies with towering browned meringue peaks; delicious double-crusted apple pies, huckleberry pies . . . . .

Gear Up program helps students prepare to further their education: Sometimes in rural areas, there are obstacles that might interfere with students attaining post high school education--obstacles that aren't factors in larger, more metropolitan areas. Gear Up can help students overcome those obstacles.
New Arm Bike speeds recovery at Boundary Community Hospital: Come and ride the bicycle—the arm bicycle that is.

ITD travel website contains helpful winter travel information; it even has a Boundary County webcam: Got a winter driving trip coming up? You may be glad to know that the Idaho Transportation Department maintains a website with some great information on highways and mountain passes throughout the state. You can even view a Boundary County highway location on an ITD webcam.
Idaho State Police announces 2015 National Missing Children Poster Contest: Idaho's Missing Persons Clearinghouse and the Idaho State Police Bureau of Criminal Identification invites entries from Idaho's fifth graders for the 2015 National Missing Children Poster Contest.
Changes coming to Highway 95; ITD schedules informational open house in Bonners Ferry: The Idaho Transportation Department is already well into the planning stages for upgrades and changes on Boundary County's part of Highway 95. At this upcoming open house, they will be providing information on current proposals for the Highway, and looking for your input. If you want to have any say in what happens with the Highway, this meeting will give you that opportunity.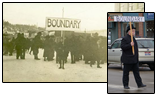 Boundary County celebrates 100 years: Wait a minute. Was this 2015? Or was it, somehow . . . . 1915? It seemed like it might be 1915, as organizers of Boundary County's Centennial celebration faithfully recreated the original celebration of 100 years ago, when residents of two-day-old Boundary County, Idaho, lauded the newly minted northernmost county in Idaho.
Photograph album of the Boundary County Centennial Celebration: Click on this headline to view our photos of the big Centennial celebration last Saturday.
Chamber of Commerce issues silver coin commemorating Boundary County

Centennial: As planning for the Boundary County Centennial celebration progressed, the folks at the Bonners Ferry Chamber of Commerce had an idea. Working with the Sunshine Mine, the Bonners Ferry Chamber of Commerce commissioned a special silver coin, commemorating the Centennial of Boundary County.

Boundary County youth qualifies for North Idaho Regionals in Elks Hoop Shoot competition: One of Idaho's premier basketball free throw shooters lives right here in Boundary County. He regularly sinks 20+ out of 25 free throws--even under the pressure of competition.
Manny Scott gives moving motivational presentations for students and community:

Well-known motivational speaker gives an inspiring presentation to students, also meets with community following a great spaghetti dinner.

Human Rights Task Force announces winners of essay contest: The Boundary County Human Rights Task Force has announced the winners of the Martin Luther King Day essay contest. These include winners at the elementary, middle, and high school levels.
Moscow Renaissance Fair coming in spring, looking for artisan vendors: Are you a Boundary County artisan? Looking for a popular venue to sell some of your creations? The Moscow Renaissance Fair - a Celebration of Spring - is looking for artisans in the Northwest to sell their wares at this year's festival.
Unemployment numbers for December released; Boundary County little changed: Boundary County December 2014 unemployment figures are up only slightly from the month before, but are clearly improved over the December figures of a year ago. See our chart listing unemployment data for all of Idaho.
NAMI offering free course on mental illness issues: Family to Family, a twelve week course for family and friends of individuals with mental illness, is being offered by the Far North Chapter of the National Alliance on Mental Illness (NAMI). The free course, facilitated by trained family members, will start on Monday, February 9.
Troy Mine shutting down operations, hopes to re-open in future when metal prices improve: The company that owns the copper and silver mine in Troy, Montana has announced

a shutdown of operations at the mine, which will lead to layoffs of approximately 70 current employees. Falling prices for copper and silver are forcing the closure, according to the company that owns the mine.
Change in voting site for Valley View Precinct: Chris Peterson, Deputy Recorder at the Courthouse, has advised of a change in election polling sites for the Valley View Precinct.
AMBER Alerts now to appear on your Facebook account: On January 13, the National Center for Missing & Exploited Children announced a partnership with Facebook to send AMBER Alerts to the social network's community to help find missing children. The new initiative will deliver AMBER Alerts to people's News Feeds in targeted search areas after a child has been abducted and the National Center has issued an alert.
Driver safety course: A driver safety course will be taught on Thursday, January 29, at the Senior Center at 6635 Lincoln on the South Hill in Bonners Ferry. Safety tips and possibly a way to save money on insurance.
Boundary County Treasurer Fessler retiring, shares her story: Boundary County Treasurer Jenny Fessler will retire tomorrow and turn over her ledger books to new incoming Treasurer Sue Larson. We asked Ms. Fessler to share with our readers her thoughts on her career and her years serving as Boundary County Treasurer. Here is what she had to say.
Highway 95 construction and improvements coming; local website comprehensive source of information: Changes are coming to Highway 95 in its course through Boundary County, and the Idaho Transportation Department wants input from Boundary County citizens to help plan those changes. If you, like most of us, feel extremely unqualified to give any meaningful input on how our future highway should be, we have a suggestion for the first place you should start: the Highway 95 Bonners Ferry website.
More News →
Letters & Opinions
Jacob Bushnell: There's also another webcam in Boundary County . . .
Orrin Everhart: Opinion on Treasurer story
Yosef Ben David: Clarification on Idaho Inauguration events
Don Jordan: Museum story
More Letters →
Sports & Outdoors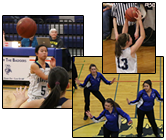 Badger girls defeat Kellogg in Intermountain League game; boys win at Lake City JV: The Kellogg Wildcats Girls' Varsity scored the first basket of the game last night against the Badgers. They held that lead for approximately eight seconds or so, until Badger senior Savannah Woods tied the game at two. Bonners Ferry took over the lead for the rest of the game. Take a look at our action photos of the Girls' game. The Badger Boys' Varsity team defeated 5A Lake City JV.
Intermountain League standings in Boys' and Girls' Basketball, as of January 28: Click on this headline to see where all the Intermountain League steams stack up in basketball.
Idaho wolf population remains well above federal recovery levels; livestock depredations down: Idaho Fish and Game Staff Biologist Jim Hayden's recent report on Idaho wolves offered three key messages: Idaho's wolf population is well above all standards for a recovered population; wolf monitoring was intensified and expanded in 2014; needs and expectations for predation management vary widely across the state.
Mild winter keeps Idaho deer and elk herds strong: After a banner year for Idaho hunters, deer and elk populations continue to benefit from mild winter conditions. Preliminary harvest surveys suggest high harvest and high success rates in 2014.
Enter now for Idaho 2015 Super Hunt Drawing: Super Hunt and Super Hunt Combo tags allow hunters to participate in any open hunt in the state for deer, elk, pronghorn and/or moose. For the chance to win a tag, hunters must purchase entries for the Super Hunt drawings.
Idaho bighorn sheep tag sells for $100,000: Idaho's bighorn sheep auction tag sold for $100,000 to an online bidder at the national Wild Sheep Foundation Sheep Show in Reno Saturday night (Jan 10). This is the fifth highest winning bid since the program started in 1988.
Fish and Game might charge you more for a license, unless you purchase every year: Idaho Fish and Game will ask Idaho lawmakers this legislative session to consider a proposal to increase resident Idaho license and tag fees, but the request has a twist where you can keep your fee the same.
More Sports →
Obituaries
Elaine M. Murray: August 24, 1933 ~ January 09, 2015
Charles (Chuck) Huff: November 06, 1935 ~ January 24, 2015
Christopher John Matyi: November 05, 1968 ~ January 07, 2015
More Obituaries →
Search News Bonners Ferry:
Loading