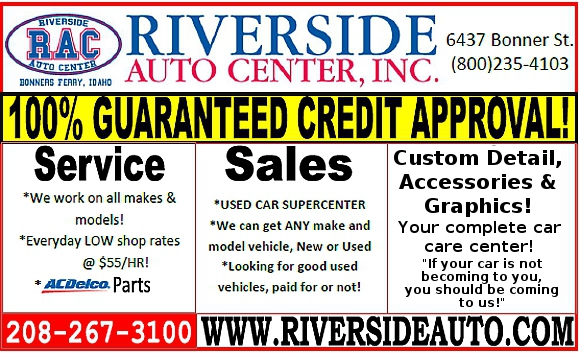 News

Introducing candidate Sue Larson: I write to introduce myself to you, as I am running for the office of Boundary County Treasurer. My name is Sue Larson, and I already have all of the requisite knowledge for the office.
Plenty of Easter Egg hunts to choose from: If you're looking for a plate to take your children, dressed up in their Easter finery and toting their darling little baskets, to enjoy that wonderful childhood tradition of hunting Easter eggs, you don't have to look far if you're in Boundary County, where you have four events to choose from Saturday.

Caitlyn is 2014 Ag Baby: In observance of agriculture, spring, and new beginnings, Farm Bureau is pleased to announce this year's first baby of spring. Caitlyn Paige Dunham, born March 20 to Bethany and Anthony Dunham.
Dam discharge at full capacity: In response to increased snowpack in the Kootenai Basin during the month of March, the U.S. Army Corps of Engineers is discharging full powerhouse capacity, about 25,000 cubic feet per second, at Libby Dam.

ISP seeking man who hit ambulance: The Idaho State Police are asking for the public's assistance in locating Samuel John McCartney, 36, of Twin Falls, Idaho. McCartney was charged with inattentive driving in Adams County after the car he was driving collided head-on with the Council Ambulance on Highway 95 at milepost 121 near Indian Valley on October 22, 2013.
NI Veterans Stand Down coming May 10: The 2014 North Idaho Veterans Stand Down will take place this year from 8 a.m. to 2 p.m. Saturday, May 10, at the Kootenai County Fairgrounds. The event is held annually to provide services to homeless and disadvantaged veterans in Coeur d' Alene and the surrounding communities.
Maggi the Cow visits second graders: Recently the ladies of Farm Bureau and the Boundary Soil Conservation District took the Moving Agriculture in the Classroom trailer to visit the second graders at Mt Hall, Naples and Valley View Elementary Schools to teach them "where their food comes from."

Morty needs to find new home: Morty is a four-year-old male Lab/Rhodesian ridgeback mix who grew a whole lot more than the family who picked him up from the free box at the Bonners Ferry Farmers Market expected, and now they are trying to find him a forever family who can give him room to run and romp. Update: Morty found a forever home! Thank you!
| | | |
| --- | --- | --- |
| | | |
| Shaylee Ellson | Amanda Wilson | Kendra Urbaniak |
Meet DYW contestants 8 through 10: Here are the final three contestants in the 2014 Distinguished Young Women competition, which

takes place at 6:30 p.m. Saturday, April 26, in the Becker Auditorium at Bonners Ferry High School.

Brian Davis living his automotive dream: After years of study and work, a dream comes true on Saturday for a former Bonners Ferry couple, as Brian Davis and his wife, Jenna Richardson-Davis, open Hellbilly Customs, a complete automotive customization shop in Coeur d'Alene.
State testing going well at VVES: The first week of Idaho State testing has gone very well. The fifth grade has taken the Science ISAT assessment. This week we begin the new SBAC assessment for math and language arts. By Principal Gary Pfleuger
Court records and sheriff's log

Lecrenski has European dreams: Bonners Ferry High School junior Kassy Lecrenski, whom you may have seen working the produce aisle at Super 1 Foods, is excited about a once in a lifetime opportunity for travel, and while she's working hard to make her dream come true on her own, her community can help her, and her aspiring classmates, get to where they hope to go.
Microsoft will not call to fix computer bug: A Bonners Ferry man reported getting a phone call today from "Microsoft" informing him that his computer has been infected by a virus, and insisting that he follow his instructions or face digital catastrophe. Fortunately, he recognized the scam before it bit him.
Fire destroys contents of Highland Flats home: While firefighters from three departments were able to save the shell, the interior and contents of a storage building with upstairs living quarters were completely destroyed by fire Thursday afternoon, leaving an elderly man and his dog homeless and lacking.

Roop recovering in Denver after collision: BJ Roop, 63, Naples, traveled to Denver in late March to visit family for a few weeks, but after shattering both ankles in a vehicle collision March 31, the visit there will instead be for unplanned months, time that will pass much more quickly with well wishes from friends here at home.
Library to hold meetings on expansion plans: A series of weekly public informational meetings will kick off next week to explain two measures that will go before Boundary County voters May 20 that would, if approved, bring a world-class library housing much more to Bonners Ferry.

Two with ties to county indicted: Nathan Paul Davenport, 34, and Matthew Taber Annable, 39, both of whom lived in Boundary County near Eastport when their alleged crime spree began, were indicted Wednesday by a federal grand jury in Boise for multiple bank larcenies, conspiracy, and use of a deadly weapon during a felony offense, U.S. Attorney Wendy J. Olson announced.
IPNF prescribed burns to begin: The Idaho Panhandle National Forest plans to initiate their annual prescribed fire program starting today and continue into the following weeks.
More News →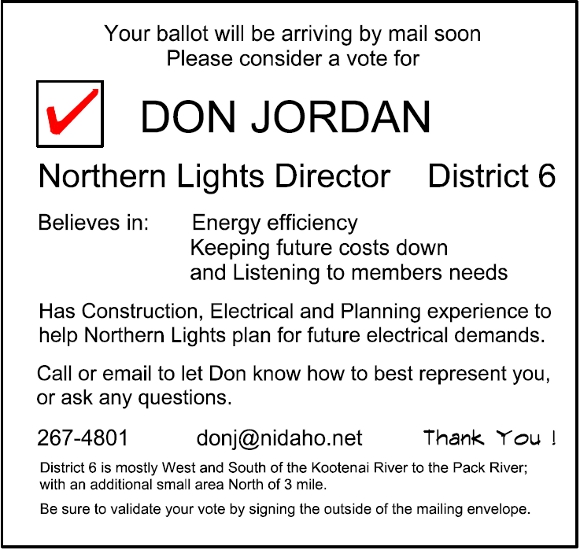 Letters & Opinions
Congressman Raul Labrador: Nearly every day, the Obama administration announces a new policy or regulation that undermines our Constitutional rights and stifles our economy. The EPA, in particular, has put out some egregious regulations that have a direct and negative impact on the people of Idaho.
Dean Satchwell: Thank you for your article, "Satchwell honored for service to the city," but I would like to clarify the treatment I am undergoing for Multiple Myeloma and share information that may be of help to others in the community.
More Letters →
Sports & Outdoors
Busy week for Badger girls: It sure has been a busy week for the Badger softball team! With seven games in the past six days they have earned a well-deserved day of rest on Sunday.

Kelly's Excavating wins championship: The Boundary County Volleyball Association finished their season with a round robin tournament and in a close competition between the top three teams, Kelly's Excavating won the 'A' League championship.
More Sports →
Obituaries
Arthur J. Brasher, January, 1940 ~ April 6, 2014
Don J. Hoagland, 80, of Yakima died Tuesday, April 1, at Crescent Health Care Center in Yakima. Family services will be held at a later date.
Ervin Jantz, March 24, 2014
More Obituaries →
Search News Bonners Ferry:
Loading
Weather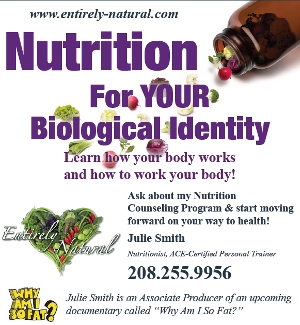 Social News

Cossairt, Munson Students of the Month: The Bonners Ferry Rotary Students of the Month for March are two hard-working and talented Bonners Ferry High School seniors; Gabrielle Munson and Collin Cossairt.
Gaspar named Student of the Month: A gregarious and athletic senior at Bonners Ferry High School, Johnathan Gaspar is Upsilon Chapter of Delta Kappa Gamma Women Educators' student of the month for March.
More Social News →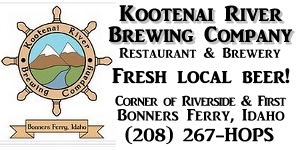 Events
Friday, April 18
Badger track at Freeman Invite, 3:30 p.m.
Saturday, April 19
The Friends of the Kootenai National Wildlife Refuge Bird Walk, 9 a.m. Gather at the Refuge's Education Barn for a two hour outing. Dress for the weather. Bring binoculars and/or a scope and a birding guide if you have them available. Everyone is welcome.
Badger baseball double header, home vs. Timberlake, 11 a.m.
Badger softball double header, home vs. Timberlake, 11 a.m.
Badger baseball double header, home vs. Timberlake, 11 a.m.
Volunteer Appreciation Day at the Community Restorium: 1 to 3 p.m. Any and all community volunteers are invited to attend for pizza, salad and desserts!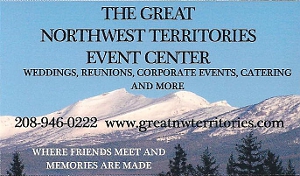 Monday, April 21
Badger golf at Coeur d'Alene Invite, 9 a.m.
Boundary County Library public informational meetings, 10 a.m., 2 p.m. and 6 p.m. in the library meeting room to discuss the proposed library expansion plan to go before voters at the May 20 primary election. To find out more about the project or the meetings, call the library at (208) 267-3750.
Kootenai Valley Resource Initiative meeting, 7 p.m. Boundary County Extension Office. There will be a presentation by the U.S. Army Corps on the spring water forecast, and also a presentation on the Pacific Northwest National Scenic Trail. For more information, call Patty at (208) 267-3519 or email patty@kootenai.org.
Tuesday, April 22
Badger softball at Priest River, 4 p.m.
Badger baseball at Priest River, 4 p.m.
Badger golf at Priest River dual, 4 p.m.
Badger track at Kellogg IML double dual vs Kellogg and Priest River, 4 p.m.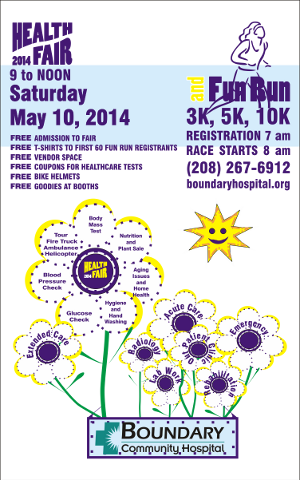 Thursday, April 24
Badger softball, home vs. Troy, 4 p.m.
Friday, April 25
Boundary County Library public informational meetings, 10 a.m., 2 p.m. and 6 p.m. in the library meeting room to discuss the proposed library expansion plan to go before voters at the May 20 primary election. To find out more about the project or the meetings, call the library at (208) 267-3750.
Earth Day "Barnyard and Bones" Tour, noon, bus leaves from the Bonners Ferry Visitor's Center. Tour the West Side, see mammal bones from around the world in My. Hall, visit the cute alpacas north of Bonners Ferry. Limit of 20 people; arrive early!
Badger track at Timberlake Invite, 3 p.m.
The Boundary County Republican Central Committee Lincoln Day Dinner begins with a no-host social hour at 5 p.m. and a buffet dinner at 6 p.m. at the Kootenai River Inn, 7169 Plaza Street, Bonners Ferry. Tickets are $40 per person and available from any GOP precinct committeeman, by emailing secretary Linda Alt at lalt@meadowcrk.com or by calling chairman Tim Dillin at (208) 267-7192. To learn more, visit www.gop-boundary.org.
More Events →