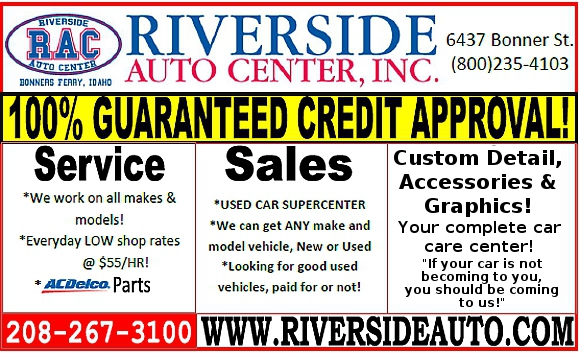 News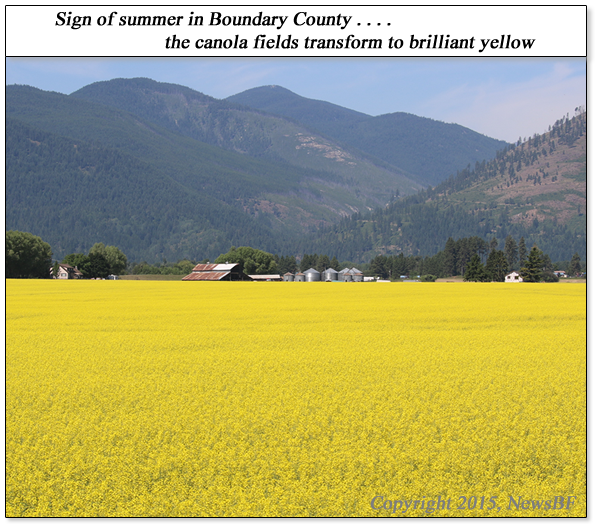 Correction on articles about renovating the Paradise Valley Church: one photograph was in error: A couple of readers pointed out an error in a photograph with articles on the Paradise Valley Church. Turns out, they were right.
Man sought for shoplifting Radio Shack computer in Bonners Ferry dies during alleged shoplifting incident in Coeur d'Alene: The man who had a warrant for arrest issued two months ago in Bonners Ferry for allegedly stealing a computer from Radio Shack has died while being restrained following another alleged shoplifting incident in Coeur d'Alene.
New Appointee fills open seat on Bonners Ferry City Council: (New photo just added to this story). Meet Bonners Ferry's newest City Councilman. He's an estimator for Accurate Collision Services, a volunteer for the City of Bonners Ferry Fire Department, and now has some new responsibilities.
Final plans and schedule for Boundary County Fourth of July events: (Story just updated to include full schedule of parade and events at the Eastport Fourth of July celebration, along with the Bonners Ferry schedule of events). Funding is in place, the fun and entertainment is set, and fireworks plans are made. Click on this story to see the full story and the complete schedule of events for the big day.
Fry Healthcare Foundation's 7th Annual Golf Tournament is in the books; golf winners

and prize winners announced: Fifty-four players, one moose calf, and several families of geese worked their way around 18-holes of golf at Mirror Lake Golf Course

—

all to help raise money for the hospital.

Summer is here and Idaho is ready for fire season; More active fire season expected in North Idaho: It's official: summer is here and weather and fuel conditions indicate 2015 will be an active fire season. Plans, equipment, and personnel are in place and ready to go.
School board discusses: controversial novel, recommendations for auditorium, changes to Coaching Handbook: High School English teacher Theresa Nix may proceed in her literature class with her proposed use of a novel that has been considered controversial in some quarters

—with some conditions. The Board also considered recommendations made about the high school auditorium, changes to the district's Coaching Manual on disciplinary issues, and other items. Click on this headline to read more.
Recent BF City Council issues: Administrator Boorman resigns, new City councilman appointed, new rules for dog owners: Details on recent issues and action at the Bonners Ferry City Council available in this story. Click on the headline above for more information.
Paradise Valley Church renovation project progressing: Work is moving along better than expected on the restoration of the Paradise Valley Church, but there is one item they are looking for.
The Kootenai Wildlife Refuge is offering a special deer hunt blind for hunters with disabilities. See the story in our Sports section for more information.

More News →
Letters & Opinions
Bethany Cavender: Swimming pool fees, thoughts and suggestions
Val Thompson: And another response about swimming pool fees
Jessica Tingley: Responds to concerns on swimming pool fees
Larry Bauer: Increase in swimming pool fees is too much
Marty Huddleston: Sequels store closing
Rosanne Smith: Thanks to police for parade safety
More Letters →
Sports & Outdoors

Alumni Baseball Game: "Old Timers" vs Today's Badger/Legion Team: (New action photos just added to this story!) Players from the past challenged the current team to a fundraiser game. Lots of baseball action going on there . . .
New video helps fishermen get along a little better: Ever feel like other closeby fishermen are something of a bother? Idaho Fish and Game has the answer.
More Sports →
Obituaries
Marjorie T. Guthrie: August 4, 1924 ~ June 22, 2015
William (Bill) Warner Hays: April 26, 1933 ~ June 19, 2015
Gifford Eugene Dinning: November 11, 1926 ~ June 11, 2015
Irmajean Spencer: October 23, 1965 ~ June 3,2015 (complete obituary now available)
Victor Francis Anderson: November 21, 1934 ~ June 1, 2015
More Obituaries →
Search News Bonners Ferry:
Loading