News

March 22:
Bring Spring Job Fair coming at Kootenai County Department of Labor office: 1500 jobs: They say they've got that many jobs available at this event. Check this story for a partial list of employers who will be there and positions that will be available.
March 21:

Distinguished Young Women biographies, Participants 1-3: Even though everyone involved with DYW is very busy these days, they somehow found the time to send us biographies and information on three of the DYW participants. More will be coming.
Behind The Scenes of "The Manliest Show in Town": What happens when you take 11 of the

manliest senior boys of Bonners Ferry High School and put them through two weeks of intense practices to put on the most masculine show Boundary County has to offer? Find out here.
BNSF Railroad moves ahead in project for second railroad bridge at Lake Pend Oreille; Department of Lands schedules public hearings: This article looks at the proposal for the new bridge planned for construction right next to the current railroad bridge across the lake, reviews some history of the proposal, and provides details on the public comment period and hearings set by the Idaho Department of Lands, including how you can submit your comment.
March 20:
Naples Honor Roll students announced: Naples Elementary School has released its list of Honor Roll students for Trimester 2. You can see all the names on the Honor Roll list here.
Boundary County Live-NewsBF Basketball contest continues to thrill with 16 teams remaining: The

NCAA Basketball Tournament is down to 16 teams remaining. As the Tournament builds to the excitement of the coming Championship Game, another contest, nearly almost as exciting, is also playing out in thrilling fashion. Of course we are talking about the Boundary County Live-NewsBF Basketball Tournament Challenge!

Innovative training program Inspire Idaho coming to Bonners Ferry: The Experience Tour is coming to Idaho. No, it isn't a rock band, but it is something that is going to be pretty exciting for many Idahoans. Innovation Collective and the University of Idaho are embarking on a 5-day, 20 city tour of Idaho to promote a rapid learning initiative called Inspire Idaho. This years program involves training in writing and developing computer apps.

Hiring event in Sandpoint tomorrow: Looking for a new job? The Sandpoint Office of the Idaho Department of Labor is sponsoring a hiring event to give you a chance to meet directly with employers who now have immediate job openings.
March 18:
Four Boundary County students place in Regional Spelling Bee: Four local Boundary County Students participated in the North Idaho Regional Spelling Bee held yesterday at North Idaho College. Those students did fairly well, but the championship went to a fifth grade student from Hayden who won a trip to the National Spelling Bee in Washington, D.C.
Penguin Plunge 2018: Who wouldn't want to jump into the icy Kootenai River in the middle of

March, while wearing a crazy costume? That freezin' was done for a reason—to raise funds for the Special Olympics. See the details and some photographs.
March 17:

Governor Otter meets with public in Moyie Springs—Idaho's Capitol for the Day: Residents had the opportunity to meet with and question the Governor and many other state officials.
Interior Department releases report on fight against invasive mussels: As we recently reported on this problem in Idaho, we decided to include this recently published additional report, updating the work going on at the Interior Department.
March 16:
Moyie Springs to become Idaho's Capitol for a Day—today: Governor Otter brings State government to Idahoans living outside Boise each month by making a different town in Idaho the state's "Capital for a Day." The honor falls this month to Moyie Springs. Read the details and see the schedule for the day in this story.

Bonners Ferry High School group gets first-class tour of Washington, D.C.: Eight Bonners Ferry High School students had the opportunity of a lifetime when they traveled to Washington, D.C. recently for an in-depth tour of our national capitol.

"I learned a lot," said one of the students who made the trip.
Idaho Drug-Free Youth active in Boundary County: Idaho Drug Free Youth (IDFY) is once

again active in Boundary County. The program encourages students to be drug free and promote positive leadership and teambuilding. The Sheriff's office has helped provide funds for IDFY.
Public Notice of upcoming Boundary County Tax Deeded Property Auction: The Boundary County Commissioner's Office has issued a public notice of the county's upcoming tax deeded property auction. You can read the Public Notice here, including limited information about the properties.
March 15:
BFHS Students sit-in to support Florida school and anti-violence: A seventeen-minute sit-in took place at the high school yesterday, further details in the full story.
March 14:
Sign up to enter and win the

$100 Grand Prize

in our Basketball Tournament Contest: March Madness is here, and somehow this madness has affected us here at Boundary County Live and NewsBF. We are sponsoring a contest where you could win $100, if your basketball tournament bracket is good enough. Act quickly, the deadline to enter the contest is coming up VERY soon. Check this article for details.


Distinguished Young Women program set to go in April: Nine of Bonners Ferry's most outstanding junior girls will be given an opportunity to win scholarship money and prizes in this year's annual Bonners Ferry Distinguished Young Women Scholarship Program (formerly Junior Miss). Set for April 28 at the Becker Auditorium, get ready for a night of vintage family fun as they present "Under the Big Top."
March 13

Latest Idaho employment, jobs statistics released: Idaho continues to shine in terms of employment and jobs. In the latest available numbers from January, unemployment remains low in Idaho, and our state is second in the nation for job growth. Idaho had more than 22,000 online postings for Help Wanted.
March 12
Boundary County's proposal for child pedestrian safety around Naples School not selected for state funding: Boundary County put together a proposal to improve child safety around Naples Elementary and submitted the project last December to compete for state funding. The Boundary County project was one of 71 submitted from around the state.
BFHS Robotics Team ready for intense regional competitions (and, Open House coming up this Friday): The robot is ready,

competitions are scheduled in Boise and in Calgary, and you are invited to an Open House coming up Friday, March 16. (Yes, the robot will be at the Open House).
March 9

Boundary County students recognized on Deans' Lists at colleges, universities around Idaho: Colleges and universities around Idaho have wrapped up Fall Semester 2017, their most recently completed semester. Those institutions have now completed their calculations of their students' grades, and have assembled their Dean's Lists for the semester. And, as you might expect, many Boundary County students achieved Dean's List academic recognition at colleges and universities around the state.

CNA class graduates at Boundary Community Hospital; next course beginning soon: Boundary Community Hospital and North Idaho College announced the graduation of the autumn semester Certified Nursing Assistant class. See the graduating class in this story.
An Idaho-reared monarch butterfly completes multi-state flight to California: Many are

aware that Monarch butterflies from the western United States are known to migrate hundreds of miles to spend the winters in warmer areas along the coast, in the Southwest United States, and in Mexico. Recently, a Monarch butterfly reared in southern Idaho's Treasure Valley made history when it was rescued over 600 miles away from a swimming pool in California.

25th North Idaho Veterans Stand Down event provides opportunities to help veterans: The 25th North Idaho Veterans Stand Down will be held on Saturday, May 12. Through the work of volunteers and local organizations, this one-day event provides veterans and their families' invaluable information and resources.
March 7
Our nearby Idaho Star Garnet hunting area: Not far from here, in Shoshone county is one of

the few places in the world where one can find Idaho Star Garnets, our state gem. If you had plans to take the kids or the grandkids, or out-of-state visitors, or just yourself, to the Emerald Creek Garnet area to search for Idaho Star Garnets, then you need to be aware of some schedule changes for the popular area.
March 6

GED Test preparation and test available at local NIC office, helps many earn important credential: Do you know of someone who did not finish high school, but who now is thinking about pursuing some educational goals, or improving their qualifications for a job? Preparing for and taking the GED Test may be a way to help that person get on a pathway to being better qualified for many jobs, or to improve their chances of getting into college. Preparing for and taking the test is available in Bonners Ferry.
March 5
UPDATE: Sandpoint City Police releases further details regarding shooting incident of this morning: Sandpoint City Police have identified the officers involved in this morning's shootings in the southwest part of the city, at Ridley Village Road. They have also identified the deceased suspected shooter.
New Forest Supervisor on the Idaho Panhandle National Forests: Jeanne Higgins has been selected as the new Forest Supervisor on the Idaho Panhandle National Forests starting mid-May 2018. The University of Idaho graduate has served in many leadership positions with the Forest Service, and in years past started her career on the front lines, in the forest.
White Clouds wilderness area could be renamed for former Governor Cecil Andrus:

Representative Simpson's bill has passed House committee, now moves on to consideration by the full House of Representatives.

Two Sandpoint City police officers shot in early morning incident: 12:26 p.m. Two Sandpoint City Police officers were shot while responding to a call on the southwest part of Sandpoint this morning. Both sustained serious injuries, both expected to survive. This story has details as they are available at this time, also maps showing the location of the incident. This is an evolving story, and not all information is yet publicly available. More information will be posted as it becomes available from Sandpoint City authorities.
March 3

Fun, energetic play All Shook Up will keep you rockin' . . . There are still two performances for today. If you like Shakespeare, if you like Elvis, if you like swing dancing, if you like fun musical performances, if you like lots of colorful energy—if you think it's crazy all that would be wrapped up in one play, go see one of today's performances.
March 2

Part 1: Invasive mussel species are getting so bad, the government

started a contest. First, some background . . . We're going to talk a little about invasive species here. Specifically invasive mussels. Why? Because they are a big threat to invade Idaho's beautiful waterways, and if that should happen, that would change many things for the worse. And, because there is a nationwide contest underway seeking ideas to eliminate these invasive mussels. That's kind of unusual, and we thought you might want to know about it.

Part 2: Bureau receives 99 proposals in competition for solutions to stop spread of invasive mussels: The Bureau of Reclamation received nearly 100 proposals from entities participating in an agency challenge to develop new ways to stop the proliferation of invasive mussel species.

Selkirk Sweets Bakery open for business: If it's 4:30 in the morning, you might see a light on in the kitchen of Selkirk Sweets Bakery and Catering, a new business located at the south side of Bonners Ferry inside the Dodge Peak Lodge.
March 1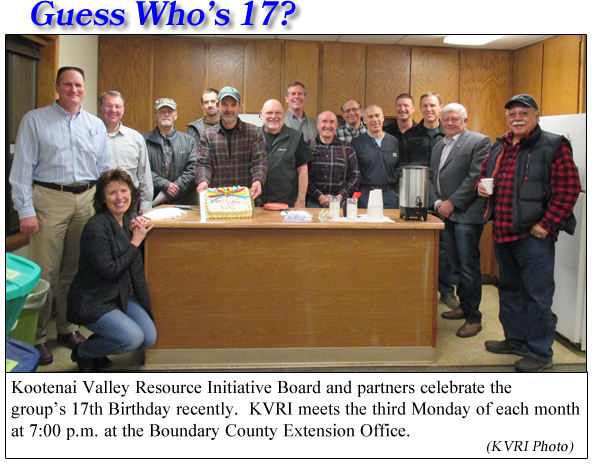 Kootenai Valley Resource Initiative was established 17 years ago in 2001 as a coalition of community members representing many diverse views from our community. It's purpose is to involve local leaders and organizations to improve coordination with agencies that have a management role over the natural resources in our county.

KVRI has had some notable accomplishments over the years, such as the Collaborative Landscape Restoration Act designation, which allows for additional funding to partner with the Forest Service on restoration activities affecting our local areas of the National Forest.

KVRI currently continues to work to help make Boundary County a great place to live, and operates several committees and working groups that focus on important issues in the county, such as water quality, federal forest management, and grizzly bear recovery.

Happy Birthday Kootenai Valley Resource Initiative!
You're invited to "Winter Birding" with an expert from North Idaho College: Join an outdoor educational specialist and field ornithologist at NIC's Winter Birding class, scheduled for Saturday, March 10.
The Kootenai Tribe of Idaho is looking for an Office Assistant for their Twin Rivers Sturgeon and Burbot Hatchery. To see the full description of about the position, click here.
February 28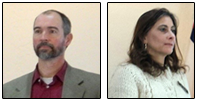 Representatives Scott, Dixon report back to Boundary County citizens in Town Hall meeting: Idaho State District 1 Representatives Heather Scott and Sage Dixon spoke to a full house during a Town Hall held at Providence Bible Presbyterian Church in Bonners Ferry on Saturday.
Penguin Plunge coming up: Once again it is "Freezin for a Reason" time. Penguin Plunge 2018, set for Saturday, March 17, is an event that supports Special Olympics, and is simply a lot of fun to watch. Along with several local residents serving as judges, one guest judge is a former Olympic athlete.

Student contest to design artwork for next Junior Duck Stamp:

Here is a chance for Idaho students to show off their fine artistic abilities and possibly have gtheir picture selected for the Federal Junior Duck Stamp. Your submission needs to be postmarked by the deadline of March 15, 2018.
Members of Boundary County Organizations Learn Wilderness First Aid:

The Hall Mountain Volunteer Fire Association sponsored a two-day training workshop in Wilderness First Aid for Boundary County first responders, and others, at the Kootenai National Wildlife Refuge on Saturday.

Sheriff's Office plans Crime Prevention presentations: Sheriff Dave Kramer and his crime prevention specialists will be hosting a series of Crime Prevention Nights at locations around the county.

ITD exeriments with solar-powered pavement markings: The unusual amount ofsunshine this winter has allowed the Idaho Transportation Department to work on their innovative thinking and to experiment with a few new traffic control gizmos.
February 24

Badger cheerleaders top in IML: Bonners Ferry cheerleaders took first place with their show routine today at the district championships in Coeur d'Alene, and earned the overall Grand Championship for the Intermountain League! The team will travel to the Ford Center, Boise, March 16 to compete for the state title!
February 22
County commission minutes, February 12
County commission minutes, January 29
County Commission minutes, December 18
February 20
Bonners Ferry City Council minutes, January 2
More News →
Letters & Opinions
Rosanne Smith: On the proposed Moyie Springs playground / recreation site
Charity Catlin: Primary election day is May 15 here in Idaho and the campaigns are heating up as most, if not all, of the winners in May will also be the winners in November. When I'm looking at a candidate for office I have two questions . . .
Adam Newhouse: Concerns and thoughts about Bonners Ferry's only traffic light. In some situations it seems to make things a little more unsafe.
Lee Haarstick: As a Vietnam era veteran, I recognize first hand that patriotism and a determined commitment to our Constitutional freedoms (First and Second Amendment rights) are characteristics of the sacrifices veterans who served endured so that these freedoms are protected by all Americans.
More Letters →
Sports & Outdoors
Foundation accepting applications for grants: The Idaho Fish & Wildlife Foundation is accepting applications for its 2018 grants cycle. The grants program provides funding on a competitive basis to nonprofit organizations, the Idaho Department of Fish and Game, and tax-exempt organizations.
More Sports →
Obituaries
Terry R. Boss (Newman). January 29, 1963 ~ February 22, 2018
Beth Lucile Holdeman. July 4, 1923 ~ February 23, 2018
More Obituaries →
Search News Bonners Ferry:
Loading