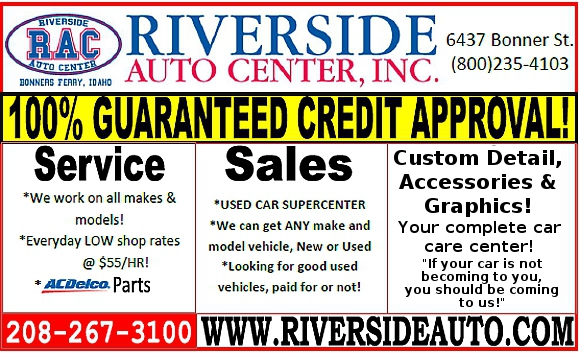 News
Idaho legislators close session with funding bill for roads: Bill passes that meets about one-third of funding estimated to maintain roads. "The fact is we are driving on the infrastructure that was designed and built for our grandparents."
Driver crashes into house: On Saturday night, at about 9:10 p.m., the Sheriff's Office

received a report of a vehicle striking a residence.
Sandpoint man named as wanted for theft from Boundary Computer: A warrant for the arrest of a suspect has been issued by Judge Justin Julian.

Fourth of July celebration in planning stages: In order to have another of Boundary County's fantastic Fourth of July celebrations as in years past, planning and funding needs to start now. Gary Leonard, who has spearheaded the organizing and funding of our area's Fourth of July celebrations in recent years, has again volunteered to help coordinate this year's July Fourth event.
Rotary Club celebrates local law enforcement: It was a packed house at the Bonners Ferry Rotary Club's First Annual Law Enforcement Appreciation Dinner.
Spokane news anchor to emcee Bonners Ferry Distinguished Young Women Program: Co-anchor of Good Morning Northwest on KXLY out of Spokane will be returning to Bonners Ferry to emcee this year's Distinguished Young Women Scholarship program.
Boundary County's BFHS Robotics team wins Regional Title: FIRST Robotics Team 2130 Alpha+, along with their alliance partners, Bulldogs from Calgary, Alberta and K-Bots from Standoff, Alberta, were the Regional Winners of the FIRST Robotics Western Canada Regional in Calgary, Alberta.
Shuffling of some downtown businesses coming soon: There will be a little shuffling going on this month on Main Street in downtown Bonners Ferry.
51 employers participating in hiring event in Post Falls next week: Fifty-one employers will be participating in the April 15 hiring event sponsored by the Idaho Department of Labor.

Got a teen interested in aviation? ACE Academy offers teenagers chance to learn about aviation careers: Navigating small airplanes, controlling air traffic and exploring Blackhawk helicopters are all part of the Aviation Career Exploration Academy, offered by the Idaho Transportation Department. The three day academy also includes discussions with representatives from aeronautical schools, tours of the Boise airport and local aviation businesses, and tours with the Idaho Army and Air National Guard. Also

—

flights to nearby airports. See this story for more details.

Health Fair coming: informational booths, Fun Run, Kids' Bike Rodeo, helicopter/firetruck/ambulance displays, and more: This year's Boundary Community Hospital offers information, free lab testing, and fun.
Downtown Radio Shack reports stolen computer, asks public help with security photos:

Boundary Computer Radio Shack, on Main Street in downtown Bonners Ferry, is asking for assistance from the public to help resolve what appears to be a theft of one of their computers. They want to know if you can identify the man shown in their security camera photos. Click on this article to see eight security photos.

Photos for Distinguished Young Women featured in our most recent profile now available: Click here to see the Biographies and photographs of the latest three Distinguished Young Women participants.
Distinguished Young Women tickets on sale soon; Style Show coming up: Being stylish is just one of the many attributes the 2015 -2016 Distinguished Young Women of Bonners Ferry participants possess, and they will share this gift at the upcoming Style Show.
BoCo Backpacks looking for community help: The school year is drawing to a close, and the volunteers in the Boundary County Backpacks are in the planning stages for the weekend supplemental food program for school age children for the next school year,

Chamber of Commerce issues silver coin commemorating Boundary County

Centennial: As planning for the Boundary County Centennial celebration progressed, the folks at the Bonners Ferry Chamber of Commerce had an idea. Working with the Sunshine Mine, the Bonners Ferry Chamber of Commerce commissioned a special silver coin, commemorating the Centennial of Boundary County.
More News →
Letters & Opinions
Bethany Cavender: Replies to question on spending priorities
Larry Bauer: Questions priorities
Gerald Higgs: Opposed to Labrador's bill on employment in family logging companies
Idaho Fish and Game Commission: There appears to be a misperception among some Idaho lawmakers . . .
More Letters →
Sports & Outdoors
Badger track shines on rainy day in Kellogg: A rainy morning turned into a decent afternoon at the Kellogg Track last Saturday. In spite of occasional gusts of wind, the sun broke through and made for improved times, distances, and heights. Both Badger track teams finished 4th out of 12 teams.
Time to apply for moose, sheep, and goat hunts: Hunters have until April 30 to apply for moose, bighorn sheep and mountain goat controlled hunts.
Badgers sweep Spartans in IML season-opening double header: Vince Bennett pitched a complete game striking out 10 and Brady Bateman and Steve Anzalone collected four hits each on the day as the Badgers won 9-6 and 17-1 in the Intermountain League doubleheader opener for both teams. Read more with this story.
Fish and Game releases rainbow stocking schedule for area lakes: Idaho Fish and Game has released their planned schedule for stocking Idaho Panhandle area lakes with rainbow trout.
More Sports →
Obituaries
Jack W. Stallings: November 8, 1922 ~ April 11, 2015
Catherine C. Nagel: May 24, 1923 ~ April 05, 2015
Elizabeth Jo Jeppesen: December 22, 1938 ~ March 29, 2015
Jack Fremont Snodgrass: June 28, 1937 ~ March 22, 2015
More Obituaries →
Search News Bonners Ferry:
Loading