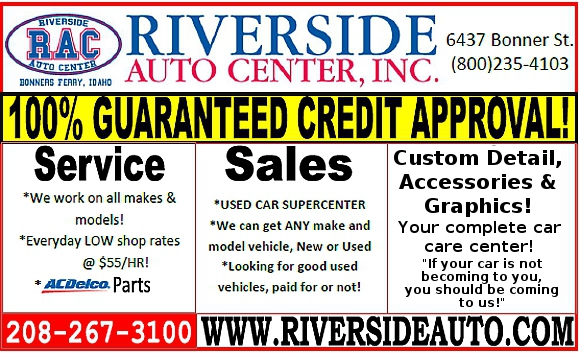 News
22 employers set for upcoming hiring event in Post Falls: Department of Labor sponsors event to help employers and those looking for work.
Kootenai Tribe enters agreement with U.S. Fish and Wildlife in developing caribou recovery plan: There was a time when a robust herd of caribou roamed through the higher elevations of Boundary County's west side mountains. The Kootenai Tribe is contributing to efforts to conserve and eventually rebuild that herd.
September 3 Parker Ridge Fire update: complete perimeter fireline will not be possible, but good progress continues: Management of fire being turned back over to local district.
Here is an important secret
—
In our Sports section, there is a little story about where Fish and Game will be stocking fish this month . . . .
Also, take a look at our fun photos taken at a few area sports events over the past week.

New Superintendent Pflueger outlines vision, goals in speech to district employees: Gary Pflueger, the new Superintendent for Boundary County School District 101, met with all staff of the District yesterday, and there presented an address outlining his vision and goals for the school year, along with some of his philosophy as Superintendent.
See our photos from the Boundary County Fair, 2015: A few photos taken over the week at the Fair.
Forest Service reminds drone operators: Steer clear of active fire areas: In fighting western wildfires this season, officials have noted a serious, emerging problem – that of interference from Unmanned Aircraft Systems, often referred to as "drones."

What is that equipment doing in the river? In-river excavation has begun on Kootenai Tribe sturgeon project : In-river construction of the Bonners Ferry Islands project has begun. This is a Kootenai Tribe of Idaho project intended to help endangered Kootenai River white sturgeon, burbot, and other native fish. Click on this story for more details.
Cutting firewood suspended on all Idaho endowment lands that are currently under Stage 2 fire restrictions: No new firewood permits to be issued at this time, those already issued are suspended until further notice.
New Certified Nursing Assistant class begins next month at the hospital: Community Hospital offers course that can lead to employment.
Renewed efforts to bring new higher-speed internet service for Boundary County: Are you thinking your internet is too slow? Boundary Economic Development Council is looking to upgrade and improve internet service in some areas of the county.
Kootenai Tribe announces start of Kootenai River habitat restoration project; begins this month: In August 2015, the Kootenai Tribe of Idaho will begin construction of the Bonners Ferry Islands project, a Kootenai River habitat restoration project to help endangered Kootenai River white sturgeon, burbot and other native fish.
Museum offers digital BFHS yearbooks dating back over 100 years: Want to see your old high school yearbook again? Want to see everyone's BFHS high school yearbook? Take a look at this offer from the Boundary County Museum.
More News →
Letters & Opinions
Rebecca Huseby: Thanks to the firefighters
Vicki Downing: A hero at the fire
More Letters →
Sports & Outdoors
Fish and Game euthanizes bear in McCall area believed to have bitten firefighter: Firefighter OK, treated at McCall hospital.


Boundary County Sports Photos: These days, there is some kind of sports action going on every day of the week in Boundary County. It's hard to keep up with everything, but here are a few photos of some of the sporting events taking place over the last week or so in our area.

Fish and Game releases fish stocking schedule for Boundary County and other Panhandle areas: This might help in planning an upcoming fishing adventure.
Fall chinook and coho fishing seasons will open September 1: September 1 marks the first day of the fall Chinook salmon fishing season on parts of the Snake, Clearwater, and Salmon rivers, as well as the second-ever coho season on the Clearwater River.
Steelhead season to open on Snake, Salmon, and Little Salmon rivers: Season planned to run til end of the year.
Fires limiting access to some areas, but hunting seasons will go on: A person can get a rain check under certain specific conditions.
More Sports →
Obituaries
Dale Warren Pattee: August 11, 1949 ~ August 16, 2015
Hardie Randolph Eubanks, II: January 30, 1954 ~ August 15, 2015
Ethel Geraldine Peaster: December 4, 1924 ~ August 14, 2015
More Obituaries →
Search News Bonners Ferry:
Loading