News
.

April 23:
Bridge between Oldtown and Newport to be replaced; will require year and a half: If you use this bridge regularly, check the details here.

Arbor Day fun and activities planned: Sponsored by some agencies who know how to have fun: University of Idaho Extension Office, Boundary Soil Conservation District, and the Idaho Department of Lands.2

Idaho Panhandle National Forests names new Deputy Forest Supervisor: Moves to the Panhandle after serving as District Ranger on the New Meadows Ranger District of the Payette National Forest.
Weed spraying to begin soon: The Boundary County Weed Department will be starting the annual spraying for noxious weeds throughout Boundary County.
This year's Farm Tour will focus on southern part of the county: This always popular event is coming up in a few weeks. Now is the time to book your spot on the tour.
Sheriff's officers now equipped with Narcan, an opioid reversal agent: Used to treat emergency overdoses.
April 20: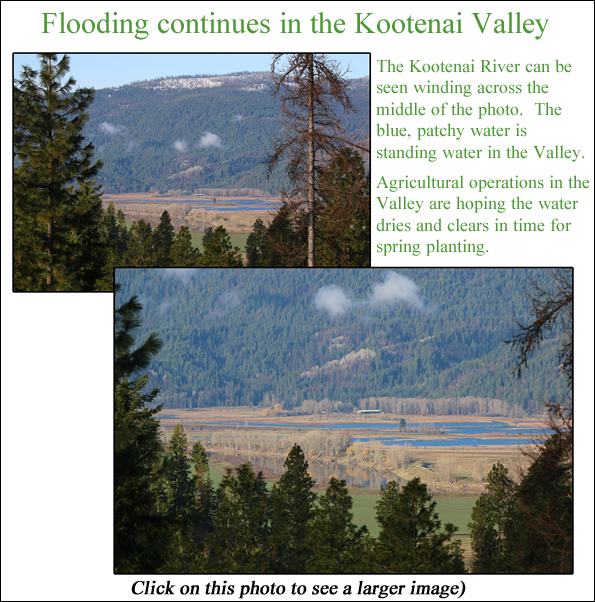 Extension Office offers lengthy list of classes: Looking to pick up some expertise from the experts? Our local Boundary County office of the University of Idaho Extension has announced a series of instructive and fun courses.
Idaho's March unemployment rate remains low; job growth continues at fastest in the nation: All the numbers and details available in this story, courtesy of the Idaho Department of Labor.

Kids can still sign up for fun and learning at 4-H Friday Friends: Though the ground is thawing and that unreachable last day of school is moving closer, 4-H Friday Friends is still in full swing. And you don't have to be in 4-H to participate in this program.
April 19:
Fellow Idahoans please note: Idaho National Guard Army Aviation Unit deploys today: Most will serve in Afghanistan in helicopter MEDEVAC.
Boundary Community Clinics: Start the Conversation about Advance Directives: Healthcare decisions can often be complicated and confusing even under the best of circumstances.
April 17:

Brian Zimmerman appointed as new Bonners Ferry Chief of Police: Boundary County native returns home to serve after years with Idaho State Police and after creating from scratch a brand new police department in Middleton, Idaho.

Community Health Fair coming soon, with many activities: Family Fun Run, free health care screenings, dozens of exhibits and vendors, tours, and for the first time a Mountain Trail Safety Clinic. Three hours packed with activities and information.
April 16:
Tribute to those who serve: Telecommunications: We cannot overemphasis the importance of the contribution that our public safety call takers and dispatchers are to our community's wellness and safety.
Sheriff's Office: Dispose safely of meds at Rx Takeback Day: On April 28, members of the Sheriff's Office will be setup in front of Super One with a place for people to drop their expired or no longer used prescriptions.
April 15:
Driver safety class offered: Learn some safety tips and qualify for an insurance discount.
April 14:
Check our Sports section: Threee BFHS athletes honored at North Idaho Sports Banquet.
April 12:

Candidates share their views at Republican Candidate Forum: Wednesday night was the night to meet area candidates who are running to win in the upcoming Primary election and move on to November's general election showdown. And we've got a quote from each candidate included in this article.
North Idaho choir BOUNDLESS off to perform in New York City's Carnegie Hall: "Who

could believe we'd ever get to do this?" said conductor Vicki Blake Thompson.
April 11:
May Primary Election: Information on Early Voting, Absentee Voting: Boundary County Clerk/Recorder Glenda Poston wants to make all Boundary County voters aware that Early or Absentee Voting is now open and available for the upcoming primary election on May 15.
April 10:
Badger Bands rate highly at Group Festival, have more big events coming up (including one big event tonight!): The Badger Bands are busy, as usual. They recently earned high ratings at a Group Festival, and have several more events coming up. You can see their latest newsletter with this article.
April 5:

On their way to the World Championship: BFHS Robotics FIRST Team 2130 Alpha+: We are excited to announce that we qualified for the World Championship being held in Houston, Texas in just two short weeks!
April 2:
We want to let all know that we post minutes for meetings of local government entities, such as Boundary County Commission, City Councils for Bonners Ferry and for Moyie Springs, for the School Board, and others, when they are made available to us. We also post agendas for upcoming meetings and other announcements from our local government. You can find those on this page, by scrolling down and checking next to the Letters to the Editor.
March 31:
The Visitor Center needs you—Volunteers Needed: Here is a way you can help out and show people how great Boundary County really is. The tourism season is about to begin in full swing . . .
March 28:

Under the new Omnibus 2018 spending bill just passed by Congress, some big federal money is coming Boundary County's way: With the passage of last Friday's $1.3 trillion federal budget and spending bill, Boundary County will be receiving some rather large payments from two federal programs.
March 27:

Free training for high-tech future is brought to Boundary County (and the rest of Idaho) by Inspire Idaho program: Robots were zipping around the Exhibit Hall at the Fairgrounds

Tuesday, following programming code instructions that had been written by people who only moments before were your everyday, average, non-coding North Idahoans.
Local Government Agendas, Minutes, Announcements
Boundary County School District 101, Agenda for Special Meeting, April 11
Moyie Springs City Council Agenda, Special Meeting, April 10
Moyie Springs City Council Minutes, March 7
Bonners Ferry City Council Agenda, Special Meeting April 10
Bonners Ferry City Council Agenda for meeting Tuesday, April 3
Moyie Springs City Council Agenda for meeting Wednesday, April 4
More News →
Letters & Opinions
Jill and David Jurgensen: Says Poston has made many improvements in Clerk's office
M. Lewis: Alerting us all to a telephone scam
Jenny Fessler: Poston devoted, knowledgeable, dedicated public servant
Chuck Roady: Supports Poston as qualified, has passion for community
Ron Adamik: Sandpoint Association endorses Scott
Rosanne Smith: A Tale of Two Cities
Shawn Keough: Says Poston has proven herself
Bruce Whittaker: Don't educate a new person at voter expense
Phil Bourassa: Questions if Boundary County timber money should go to Washington, D.C.
Kennon McClintock: Supporting Poston and Cossairt for Boundary County positions
Lynda Fioravanti: New County Clerk candidate Clark has strong background
Don Allenberg: Poston has experience and qualifications to continue as Clerk
More Letters →
Sports & Outdoors
Badgers split with Timberlake in baseball: First league loss in two years.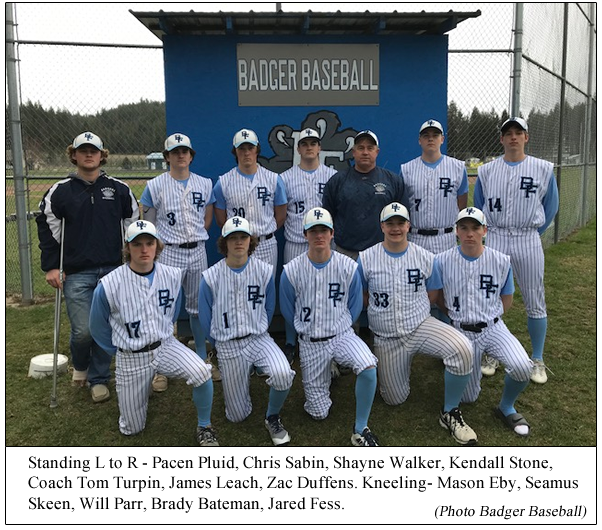 This Saturday the Bonners Ferry Badger baseball team hosts Intermountain League rival Timberlake in a double header. It will also be Senior Day, where seniors on the team will be recognized and honored. Consider coming out to support the Badgers. The first game begins at 11:00 a.m.

Three Badger athletes receive North Idaho Sports Awards at Idaho Athletic Hall of Fame Banquet: Bateman, Sabin, Dunham: Award winners for 2017 at annual Hall of Fame Banquet.

Badger Baseball wins both games of double header: Badgers take two vs Priest River.
More Sports →
Obituaries
Beverly Coram: There will be a memorial service for long-time former resident, Beverly Coram who passed away on Good Friday, March 30.
There will be a short Service for LeRoy Vogl at Veteran's Memorial Park at the Boundary County Library, on Saturday, April 21 at 3:00 p.m., followed by a Celebration of Life at Mugsy's. Food and drinks will be served. Please bring your best LeRoy stories and memories.
Kenneth Robert Jones: October 20, 1940 -~ April 2, 2018
Don James: May 29, 1935 ~ March 30, 2018. A celebration of life memorial get-together will be held at 5:00 p.m. Wednesday, April 4 at the Chic 'n Chop in Bonners Ferry
More Obituaries →
Search News Bonners Ferry:
Loading