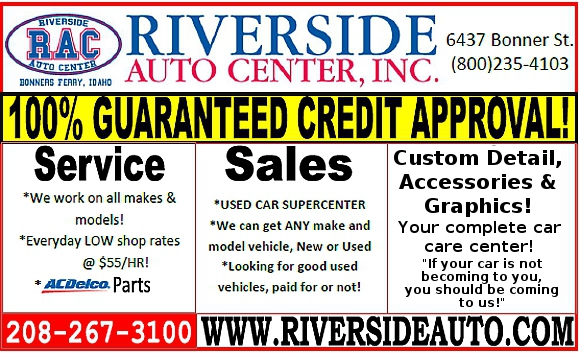 News
Quilts for donation and display at the Quilt Show: Area quilters put their skills on display at

the Quilt Show on Saturday, where well over one hundred quilts were on display at the busy and well-attended show, sponsored by the Boundary County Fairgrounds.
Flags at half-staff two times this week: Boundary County residents and Americans nationwide are being asked to fly the flag at half-staff two times this week, to commemorate two somber occasions.
Coats for Kids drive commences, seeking winter clothing for area children: Valley View Elementary is now conducting its annual Coats for Kids drive. Anyone may drop off their gently used, clean coats, with working zippers. These items will be made available to children who need warm clothing for the winter months.
Wolverine program coming up at the Refuge: You probably need to know more about wolverines, right? A special educational program on wolverines is planned for this Friday.
Idaho State Police now testing applicants for Troopers; looking for candidates for rural communities: The Idaho State Police will begin testing applicants for Troopers beginning October 2, through November 8. ISP anticipates hiring approximately 20 new Troopers with positions available in all of ISP's six district offices.
Idaho Department of Labor seeks applicants for Industry Grants: The Idaho Department of Labor is launching a third round of industry sector grants of up to $250,000 each to help employers develop training solutions to fill skill gaps and address employment shortages.
Studded snow tires legal beginning October 1: Snowstorms may not be part of the immediate weather forecast, but October 1 marks the date for legal use of studded snow tires in Idaho.
43 employers set for upcoming Job Fair in Post Falls: If you know someone looking for a job, they might be interested in attending this hiring event, sponsored by the Idaho Department of Labor.
Sheriff's Office announces recovery of body: Last Friday, September 25, the Boundary County Sheriff's Office announced that a body had been recovered from a remote region of Boundary County.
Burn permits not being issued: Burn permits are not being issued in Boundary County at this time, according to information from the Idaho Department of Lands, with the exception of specific agricultural burns.
Candidates filed for Bonners Ferry mayor, city council elections: Two candidates for mayor, four file for city council.
More News →
Letters & Opinions
Steve Nelson: Thanks for support at Friends of Mirror Lake and the Flannel Shirt Open
More Letters →
Sports & Outdoors

Badgers among top finishers in cross country meets at Priest River and Moscow: Cross country season is half way over after the Badgers ran two meets in three days last week. On Thursday the Badgers competed at Priest River's Ivan Benson Invite and on Saturday made the long trip to Moscow for the Bob Weisel Invite.
Check Station Story #1: All hunters and anglers are required to stop at check stations: All those who are hunting or fishing that day, as well as those returning from an overnight hunting or fishing outing, are required to stop if they encounter a check station on their route of travel. This includes people who are returning from hunting or fishing in Idaho or another state. And even if you were unsuccessful and did not harvest any fish or game.
Check Station Story #2: Check stations give Fish and Game a glimpse of the hunting season: Idaho Fish and Game's check stations help the department gather valuable information from hunters, and their help and cooperation is appreciated during big-game seasons. Fish and Game operates about 16 "biological" check stations throughout Idaho during fall.
Photographs from some recent BFHS athletic events: We have a couple of photos from last week's football game and last night's volleyball match.
Beginners Guide To Hunting posted On Fish And Game website: Never hunted? Don't worry, it's not as complicated as it may appear at first glance. Idaho Fish and Game has devoted a web page to help novices understand the basics, including what they need to get started, what game is available, and where to go.
More Sports →
Obituaries
Kathleen Marie Vickaryous: July 27, 1914 ~ October 4, 2015
John Barry Harper Sr.: October 15, 1941 ~ September 29, 2015
Edith Marjorie King Robinson Ciskowski: December 24, 1918 ~ September 24, 2015
David Dean Lindholm: March 9, 1949 ~ September 15, 2015
Richard Gordy Ousse: September 18, 1943 ~ September 22, 2015
Sadie Amoth: April 4, 1932 ~ September 21, 2015
Elizabeth Serene Stephens: March 9, 1942 ~ September 20, 2015
Dana A. DeRosier Cameron: November 9, 1957 ~ September 15, 2015
Joy Eileen Walker Fagenstrom: July 12, 1921 ~ September 6, 2015
More Obituaries →
Search News Bonners Ferry:
Loading