For an up-to-date map of Boundary County road closures and conditions prepared by county mapper Olivia Drake, click here. Additional instructions on its use can be found on the County GIS page http://www.boundarycountyid.org/site-page/gis.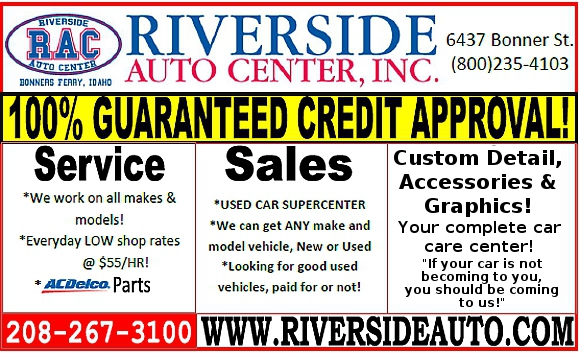 March 29
The 20 Mile Water Board of Directors would like all members to know that all water tests have been completed and passed. The water is good and the IDEQ boil order has been lifted!
Meet the next five DYW participants:

Twenty of Bonners Ferry's most outstanding junior girls are taking part in this year's Bonners Ferry Distinguished Young Women Scholarship Program April 29 at the Becker Auditorium, and here are five more of the young women now preparing for "A Night at the Oscars."

Enough Chicago already! A fellow told his co-worker that he had just turned down a huge raise because he didn't want to move to crime ridden Chicago. His friend replied that he had lived in Chicago for ten years and never had a single encounter with a crime of any kind. Musings from Moyieboy by Ken Carpenter

Former RMA director facing Wyoming sex charges: Former Rocky Mountain Academy director Scott Addison, 48, whose tenure there lasted just three months, was arrested in Laramie, Wyoming, February 22 and officially charged March 1 with 25 felony counts after multiple women accused him of sexual assault and attempted blackmail.
Fuelwood permits available on the IPNF: Fuelwood permits for the 2017-2018 season will be available beginning April 1 on the Idaho Panhandle National Forests. A Personal Use Firewood Permit is required if you wish to take firewood home.
March 28

Family's dachshund missing in Naples area: A family's beloved dog is missing from the Naples/Blue Lake/Deep Creek area. She's a mini brown and tan dachshund. She is very much missed. If you happen to see her, please call Denice Sandelin at (208) 290-3605 or (208) 290-4262.
Moderate to heavy rain expected tonight, Wednesday: The National Weather Service has issued an areal flood watch for the region, including Boundary and Bonner Counties, effective from tonight through Friday morning as a warm, moist storm system is expected to bring moderate to heavy rains to the area beginning late tonight through Wednesday.
Tutxinmepu Powwow this weekend at UI: The University of Idaho will host its 18th annual Tutxinmepu Powwow Saturday and Sunday, April 1-2, in the ASUI-Kibbie Activity Center in Moscow.
Over-the-year job growth continues to top nation: Idaho's seasonally adjusted unemployment rate for February held steady at 3.6 percent while the state continued to lead the nation in over-the-year job growth for the sixth consecutive month.
Boundary County Commission minutes, March 13
March 27
Time nears to get studded tires off: If you are traveling in Idaho, the deadline for snow tire removal is Sunday April 30. The fine in Idaho for having studded tires past the April 30th deadline is $67.
March 26
School bus route changes on Deep Creek Loop: In order to reduce delays in transporting students living on Deep Creek Loop, which remains closed at the north end from Peaceful Way to Highway 95, School District 101 will have a second bus running Deep Creek Loop beginning Monday morning.
Boundary County road update for Monday morning: As of Sunday evening, the following road issues can be expected for the Monday morning commute ...
March 24
Expect Highway 95 delays as slide area still unstable: The Idaho Transportation Department advised the Boundary County Sheriff's Office late this morning that they will reduce travel on Highway 95 near Mountain Meadows Road to one lane until the hillside which slid onto the highway last weekend can be deemed stable.

Readers lift NewsBF to a new milestone: At 10:06 p.m. Thursday, someone clicked a button on our Facebook page, and established News Bonners Ferry as the best liked local news source in Boundary County. We can't be sure who our 5,000th Facebook friend is, but we are glad you stopped by.
March 23
Highway 95 moving, Deep Creek Loop remains closed: As of 8 p.m. today, Highway 95 at mile 498.6 six miles south of Bonners Ferry remains down to one lane of traffic with flaggers after a major mud slide Tuesday evening. Deep Creek Loop, which was shut down not long after the slide, remains closed.
Gearing up for 15th CommUNITY breakfast
: The Bonners Ferry Rotary is pleased to announce its 15th annual CommUNITY Breakfast and Silent Auction, to be held from 7 to 10 a.m. Saturday, April 22, at the Valley Event Center at the Boundary County Fairgrounds.
Kootenai Tribe seeks aquaculture tech
: The Kootenai Tribe of Idaho is seeking to hire an Aquaculture Technician II, who will work in assisting in all phases of production of burbot at the Kootenai Tribe's Sturgeon and Burbot Hatchery in Moyie Springs.
More News →
Letters & Opinions
Idaho Representative Heather Scott: As the tentative March 24th session deadline drew closer, there was an urgency to "get done and go home." This reckless pace of Pelosi-style "pass-it-to-find-out what's-in-it" style of legislating is counter productive to what Idaho really needs and justification for a major overhaul of the committee system.
U.S. Congressman Raul Labrador: Fresh off of an election that delivered a unified Republican government, the nation is in a position to finally see the realization of the party's biggest campaign promise — the total repeal of Obamacare. Last week, House leadership produced a bill that fell far short of that commitment.
More Letters →
Sports & Outdoors

Hayden Lake angler reels in the latest state record fish
: North Idaho angler Scott Kerns now holds the the Idaho catch-and-release record for Northern Pike. He caught a 44-plus inch Northern Pike while ice fishing on Hayden Lake in early March. The fish, weighing approximately 33 pounds, was a true trophy for any angler.
Spring chinook seasons set
: Idaho Fish and Game commissioners approved the spring chinook seasons and rules for the Snake, Clearwater, Salmon and Little Salmon rivers during its regular meeting Thursday, March 16, in Boise. Fishing will open April 22.

Fall will bring more elk tags, fewer mule deer
: Hunters will see fewer hunting opportunities for mule deer does in the fall, but more controlled hunts for elk, particularly cow elk. Idaho Fish and Game commissioners on Thursday, March 17 set the hunting seasons for deer, elk, bear, pronghorn, mountain lion and wolf. The rules will be available online and in print in mid April.
More Sports →
Obituaries
Lauretta Tase Walters passed away peacefully at the Boundary County Restorium on March 17, 2017. Services will be held at 11 a.m. Thursday, April 6, in the Bonners Ferry Funeral Home Chapel, Bonners Ferry, with private interment in Grandview Cemetery.
Tonya Lee Cokenour, June 13, 1965 ~ March 21, 2017
Gary Barrett Buehler, August 10, 1937 ~ February 28, 2017
More Obituaries →
Search News Bonners Ferry:
Loading
Social News

Merrill and Betty to celebrate 70th anniversary: Merrill Marcy and Betty Patterson were married March 30, 1947, in Naples, Idaho. Friends and family are invited to attend an open house in celebration of their 70th wedding anniversary at the Chic-N-Chop Restaurant in Bonners Ferry between 1 and 3 p.m. Saturday, April 1.

Garrek Dlug earns pilot's wings: Garrek Dlug, 17, is Bonners Ferry's newest private pilot. Garrek started training for his license last year through an Experimental Aircraft Association (EAA) Ground School Scholarship.
More Social News →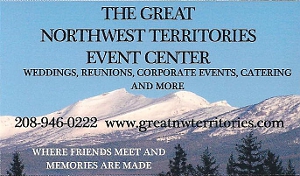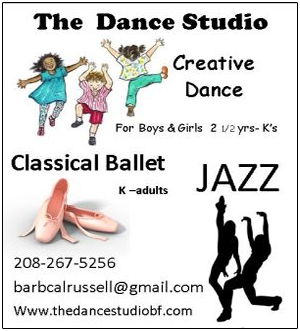 Events
Thursday, March 30
Donkey Basketball, 6 p.m., Bonners Ferry High School Gym. Advance tickets are $8 adults, $6 students and $4 children, available at the high school office, tickets at the door $1 more. Proceeds benefit the high school athletic department general fund.
Lake Pend Oreille "State of the Lake" public meeting, 6 to 8 p.m., Ponderay Events Center, 401 Bonner Mall Way, Suite E, Ponderay. Anyone interested in the Lake Pend Oreille fishery is welcome to attend.
Friday, March 31
BFHS Robotics Open House, 6:30 to 8:30 p.m., Boundary County Middle School Robotics Shop. Come see the team awnd meet this year's robot
Saturday, April 1
Free First Saturday at the Boundary County Museum, 10 a.m. to 2 p.m. Free admission sponsored by Paul and Sue Graves.
Badger Softball, 3 p.m., double header at Riverside.
Helping Hands of Naples People Helping People Fundraiser, 4 to 7 p.m., South Boundary Fire Station 1, Naples. All you can eat homemade ham feast with dessert, $7 adults, $5 kids 4-10, $25 for a family of five. Kids three and under eat free!
Gil Rivas live, 5 to 8 p.m., Kootenai River Brewing Company, 6424 Riverside Street, Bonners Ferry. For reservations or to find out more, call (208) 267-4677.
Monday, April 3
Spring Break in Boundary County public schools. Classes resume Monday, April 10.
Wednesday, April 5
Boundary County Victim Services Support Group, noon, United Methodist Church. For victims of domestic violence or sexual abuse. Facilitated by trained Crime Victim Advocates. Free child care provided. First Wednesday of every month. The 24/7 Crisis and Information line is (208) 267-5211.
Thursday, April 6
Badger Baseball, 11 a.m., double header vs. Riverside, home.
Friday, April 7
DIY Greenhouse From Cattle Panels to Extend Your Gardening Season, 1 to 4 p.m., Boundary County Extension office, 6447 Kootenai Street, Bonners Ferry. Cost is $5, call (208) 267-3235 to register. (Rescheduled from March 31)
Badger Softball, 3 p.m., double header at St. Maries.
Lincoln Day Dinner, no-host social, 6 p.m., buffet dinner, 7 p.m., Kootenai River Inn. Sponsored by the Boundary County Republican Central Committee. Tickets are $45 per person, available from any Boundary County Republican precinct committee person. Please RSVP by March 28 by emailing lalt@meadowcrk.com.
More Events →