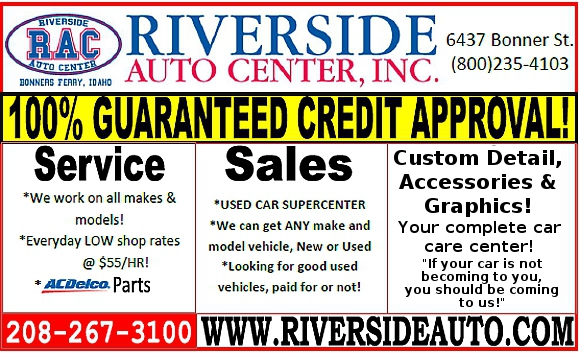 BFHS welcomes semester two and hopes for more sun! In total, semester one flew by, and I don't know where the time went. I am thankful for a great semester, and there are many people that I will be thanking in the coming weeks for helping BFHS put another semester under our belt. By Principal Kevin Dinning
County Road closures now in effect: A number of Boundary County roads have been closed today to hauling due to spring break up weather conditions. There is a 24-hour grace period, but just to be safe, if you need to haul on a Boundary County road and you're not sure, call Road & Bridge at (208) 267-3838 before you head out.

Paradise Valley woman meets cougar in her yard: Melissa ran into a cougar in her back yard Tuesday evening when she went out to shut her chicken coop for the night in Paradise Valley between Black Mountain Road and Brown Creek. If you live out that way and heard a crazy woman screaming, she said, that would have been her. It turns out, she did just what experts recommend in such a confrontation.

The power of a child's smile and a wave: While in Super1 in Bonners Ferry recently, Samantha West and her three kids walked around looking for groceries. "It was busy in there and I kept feeling like I was in someone's way," Samantha wrote in a rave she posted today on the Bonners Ferry Rant & Rave page on Facebook.
Crapo, Risch call for another year of SRS funding: Citing the stress on many rural county budgets, Idaho Senators Mike Crapo and Jim Risch joined 78 of their colleagues in sending a bipartisan, bicameral letter to the Office of Management and Budget calling on it to provide funding for the Secure Rural Schools program in the President's upcoming budget request.
Local quilts keeping refugee children in Jordan cozy: Quilters in Boundary County have been busy for some time now making and donating quilts to Quilts Beyond Borders, a non profit organization dedicated "To Provide quilts to children in need, especially orphans living in under-served areas of the world where the warmth of a quilt is needed at night."
CNA scholarships available at BCH: CNA scholarships are available for the spring semester of the nursing assistant certification program in Bonners Ferry through North Idaho College and Boundary Community Hospital, which starts March 28.

The curse Of Lippy Goatenstein: My tendency to adopt strange habits without even knowing it has become legendary. A few years ago I was out back paying some attention to my two Goatie Boys. Musings from Moyieboy, by Ken Carpenter
Honorably discharged vets to get online PX privileges: After four years of coordination with the Departments of Defense, Army and Air Force as well as several other federal agencies, the Army & Air Force Exchange Service will welcome home approximately 15 million veterans on November 11, Veteran's Day, 2017.

Festival of Hearts a huge success! The Fry Healthcare Foundation Festival of Hearts was a resounding success, raising more than $37,000 in one night. With the money from the gala, combined with funds from the 2016 Golf Tournament, we are able to fund the entire $41,000 for the Spacelabs Healthcare Cardiac Monitoring Central Station Control System for Boundary Community Hospital.
Apps and gadgets in forestry; two classes offered: Forestry technology has been undergoing many changes. Managers of large public or industrial forest lands have increasingly combined aerial imagery with geographic information systems (GIS) to develop ever more sophisticated, geo-referenced forest information.
Shawn Keough's report from Boise: Greetings from our state Capitol! Thank you to those who have contacted me to let me know your perspectives on the idea of renaming our Long Bridge across the Pend Oreille River the Veterans' Memorial Long Bridge.

Rucker pleads not guilty to St. Ann's arson: Shane Rucker, 33, Bonners Ferry, appeared in U.S. District Court Friday in Coeur d'Alene and entered a plea of not guilty to two charges brought Wednesday by a Boise grand jury for allegedly burning down St. Ann's Catholic Church in Bonners Ferry April 21, 2016.
Be prepared for spring road break-up: Once again it is the time of the year we need to think about break up road closures. Trust me; it is not my favorite part of this job. Temperatures are warming up and hard surfaced roads are soaking in the sunshine and a surface thaw will begin. Cold nights will slow it down. By Clint Kimball
BCH certified as level IV trauma center: Boundary Community Hospital has recently been designated as a Level IV Trauma Center by the State of Idaho. The designation for the hospital is part of the Idaho Time Sensitive Emergency System (TSE) and is reserved for hospitals that meet the stringent criteria established by the state.
Crapo accepting internship applications: The deadline is rapidly approaching for Idaho's students to apply for internship opportunities in U.S. Senator Mike Crapo's Washington, D.C., office, or in one of his six regional offices throughout Idaho.
More News →
Letters & Opinions
Idaho Representative Ronald Nate: Sometimes a bill doesn't need to pass in order to have an impact. Merely bringing the issue forward causes key decision makers to reconsider current practices, explore alternatives, and respond to citizen input. The bill to repeal the Smarter Balanced Assessment Consortium (SBAC) test is a perfect example.
U.S. Senator Mike Crapo: In Idaho, one in three Medicare beneficiaries have chosen a private health plan through Medicare Advantage, which allows beneficiaries to select a health plan that best suits their individual budget and health needs.
Linda Sue Nash: Shane Rucker is my nephew. He lived with me in 2015. Poor kid should never have joined the Marines.
More Letters →
Sports & Outdoors
Varsity lacrosse meeting set
: There will be a meeting for varsity players on the Bonners Ferry lacrosse team at 4:15 p.m. Tuesday, February 21, at United Methodist Church, 6568 Lincoln Street, Bonners Ferry.

Still good ice fishing in the Panhandle
: Winter certainly has been cold and snowy in the Panhandle this year. Shoveling snow and contending with slippery roads can make winter a less than pleasant time for many people. Fortunately, the winter has also provided a good ice fishing season that many anglers have gotten out and enjoyed. By Andy Dux
IFWF accepting grant applications
: The Idaho Fish & Wildlife Foundation is accepting applications for its 2017 grants cycle. The grants program provides funding on a competitive basis to nonprofit organizations, the Idaho Department of Fish and Game, and tax-exempt organizations.
More Sports →
Obituaries
Janice E. Johnson, 85, went to be with the Lord on February 16, 2017. The memorial service will be held at 10 a.m. Saturday, February 25, at the First Christian Church N201 Division Avenue, Sandpoint.
James C. Sheppard, 83, passed away at his home near Moyie Springs on February 20, 2017. Services will be held at 11 a.m. Thursday, February 23, in the Bonners Ferry Funeral Home Chapel.
Robert "David" Abeyta, February 2, 2017
Florence Arlene Carey passed away peacefully into the loving arms of the Lord, with her daughters by her side, on February 15, 2017, at Boundary Community Hospital following as short illness. Services will be held at 11 a.m. Saturday, February 25, at United Methodist Church, Bonners Ferry.
More Obituaries →
Search News Bonners Ferry:
Loading
Social News

BCH welcomes nurse Janet Lukehart: Boundary Community Hospital bids you to help welcome Family Nurse Practitioner Janet Lukehart to Boundary Community Clinics. Now that they have three providers, the Primary Care Clinic will start seeing patients Monday through Friday starting Monday, March 6.

Darrelyn Rose is Artist of the Month: Local artist Darrelyn Rose is the Boundary County Artist Association's Artist of the Month of February. Her work will be on display in the Mountain West Bank lobby from February 13 to March 13.

Halleman joins staff at BF Family Medicine: Bonners Ferry Family Medicine, 6488 Chinook Street, Bonners Ferry, is honored to have Haley Halleman join the practice. Haley is a certified Physician Assistant, licensed in Idaho as well as Oregon.
More Social News →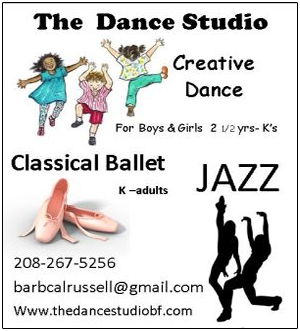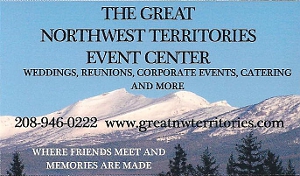 Events
Thursday, February 23
Free Marketing Seminar, 5 p.m., Kootenai River Inn, 7169 Plaza Street, Bonners Ferry.
The BCSD Theatre Troupe presents "Aida," 7 p.m., Bonners Ferry High School Becker Auditorium. Tickets for the premier Thursday showing are $5 adult and $3 students and seniors.
Friday, February 24
Rainforest Life, 1 p.m., downstairs at the Boundary County Library. Talk to a zookeeper at the Toledo Zoo and learn about the plants and animals of the tropical rain forest! Fun for all ages!
Monday, February 27
BCSD 101 Maintenance and Operations Levy Workshop, 6 p.m., Moyie Springs Community Center. The presentations are meant to educate community members so that they might make an informed decision on whether or not to support the $2.4 million levy that will be on the ballot on Tuesday, March 14.
Thursday, March 2
Valley View Carnival, 5 to 7 p.m., Valley View Elementary. Games, bouncy house and more! Chili dinner, $3.
Friday, March 3
Annual Spring United Methodist Women's Rummage, Bake and Book Sale, 9 a.m. to 4 p.m., United Methodist Church, 6568 Lincoln Street, Bonners Ferry. To find out more, call Judy Dirks, (208) 267-3859.
Saturday, March 4
Annual Spring United Methodist Women's Rummage, Bake and Book Sale, 9 a.m. to noon, United Methodist Church, 6568 Lincoln Street, Bonners Ferry. To find out more, call Judy Dirks, (208) 267-3859.
Wednesday, March 8
Rod Benders Car Club meeting, 5:30 p.m., Chic-n-Chop Restaurant, 6421 Main Street, Bonners Ferry. New members welcome! They would love community involvement in planning the upcoming car show scheduled for June 3.
Friday, March 10
Bridgeway Assembly of God Yard Sale, 9 a.m. to 3 p.m., Homestead Great Room, David Thompson Drive, Bonners Ferry. Donations gladly accepted! Please drop off donations on Thursday, March 9, beginning at noon. To find out more, call Pastor Bill at (208) 267-3558.
Missoula Children's Theater performance of "Peter and Wendy," 6:30 p.m., Bonners Ferry High School Becker Auditorium. Tickets, at the door only, are $7 adults, $5 students under 18 or $25 for families.
Saturday, March 11
Missoula Children's Theater performance of "Peter and Wendy," 1 p.m., Bonners Ferry High School Becker Auditorium. Tickets, at the door only, are $7 adults, $5 students under 18 or $25 for families.
More Events →