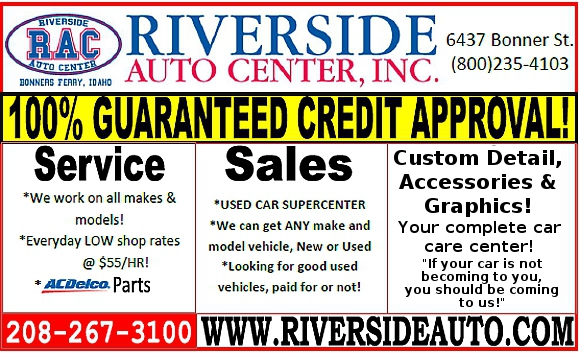 News
Bonners Ferry Police arrest suspect at gunpoint for alleged Grand Theft: Last Thursday, March 12, the call went out to Boundary County Law Enforcement: a man described as a tall, skinny male with a dark goatee had allegedly stolen a check from a person at the Kootenai River Inn.

Introducing more of this year's participants in Distinguished Young Women: This week our coverage of Distinguished Young Women continues as we publish photos and brief biographies of three more program participants, using information provided by our local Distinguished Young Women officials. Click this story for this week's biographies.
Regional Spelling Bee competition set; includes five spellers from Boundary County: Five students from Boundary County Schools have earned their way into the North Idaho Regional Spelling Bee, to be held Saturday, March 21 at North Idaho College.
Labrador introduces bill permitting minor children to work in family logging businesses: If your children are working with you in a family-owned logging business, you may technically be violating federal law. That situation may be remedied, however, under legislation proposed by Idaho Congressman Raúl Labrador.
Locally-filmed movie The Fish Between the Falls to have Bonners Ferry premier: Boundary County residents are well aware of the ongoing effort over recent years to restore the population of the Kootenai River's signature fish, the white sturgeon. Now, a movie shot largely in Boundary County is telling the story to the world. The movie's local showing is coming up soon.
Local family establishes conservation easement on large forest land parcel: Seven hundred forty-eight acres of forestland in Boundary County will be conserved as working forest and wildlife habitat in perpetuity after the Idaho Department of Lands, in partnership with The Nature Conservancy and the U.S. Forest Service, purchased a conservation easement from the Hubbard family in February.
School Maintenance & Operations Levy vote totals available: Click here to view the results of the School District M&O Levy for March 10, 2015.
CORRECTION / UPDATE:

One "Forest Funds" program has been authorized, county likely to receive federal payment in June: Authorization of PILT funding last December will send money to Boundary County.
Fire managers ask public to use caution during spring burning: With the lack of snow and the forecast for warm and dry weather, landowners will likely continue debris, ditch and field burning. Boundary County fire managers have some recommendations.
Forest Funds: Often mentioned in county and school district budgets--what exactly are they? Any School District discussion about funding our local schools, or about the District budget, or school levies, you'll hear those words spoken--"Forest Funds." They're also brought up in budget discussions for Boundary County. But what exactly are these mysterious "Forest Funds?" Our story explains what they are, how they came to be, how much Boundary County has received, and many more facts and details on that important money tied to forest land in our county.
Icy Penguin Plunge coming up: For the fifth year, various local teams, Law Enforcement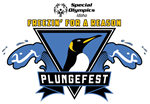 Officers, and individuals will be "Taking the Plunge" by jumping into the Kootenai River to raise funds for Idaho Special Olympics.

Chamber of Commerce issues silver coin commemorating Boundary County

Centennial: As planning for the Boundary County Centennial celebration progressed, the folks at the Bonners Ferry Chamber of Commerce had an idea. Working with the Sunshine Mine, the Bonners Ferry Chamber of Commerce commissioned a special silver coin, commemorating the Centennial of Boundary County.
More News →
Letters & Opinions
Idaho Fish and Game Commission: There appears to be a misperception among some Idaho lawmakers . . .
Dan Dinning: Commenting on Forest Funds article
Virgil Moore, Director, Idaho Fish and Game: Idaho Fish and Game tells advocacy groups to stop crying "Wolf": "It's important for state agencies to understand and respect differing points of view. But when a few advocacy groups try to grab headlines . . . "
More Letters →
Sports & Outdoors
Badger baseball splits home opener with Lake City JV: The Badger baseball team looking good in the early season, splitting its home opener doubleheader last Thursday with Lake City JV, the Badgers losing the first game 12-4, but then coming back to earn the split with an 11-3 win.
Track meet this weekend looking for volunteers: Bonners Ferry High School Trach Coach George Hays is asking for volunteers to help with this weekends' BFHS track meet.
Idaho Fish and Game offers new bowhunter online course: Idaho bowhunters in need of bowhunter education certification now have the option of being certified online. The course is designed to help Idaho bowhunters sharpen their skills and learn safe in-the-field practices.
Fish and Game Annual Fur Auction set : You don't have to be a taxidermist to find a treasure at Idaho Fish and Game's annual fur auction. This year's auction of furs, hides, antlers, fishing poles, and other items is set for Saturday, April 11 at Fish and Game's Salmon Region office in Salmon.
Trapper Education Course scheduled in Coeur d'Alene: Idaho Fish and Game is now offering voluntary trapper education courses to help educate both new and experienced trappers. The introduction to trapping class teaches basic trapping techniques with a strong focus on safety and ethical trapper behavior. Space is limited--click on this story for the details.
Black bear or Grizzly? Idaho Fish and Game offers online bear identification course: You don't want to be shooting those grizzlies.
More Sports →
Obituaries
Terrall Joseph (Terry) Jeppesen: November 29, 1935 ~ March 12, 2015
Barbara Rae Brazier: August 7, 1915 ~ March 11, 2015
Laura A. Solt: January 15, 1967 ~ March 09, 2015
Shari L. Hirsh: October 11, 1960 ~ March 05, 2015
Florence Carol Burkhart: March 1, 1918 ~ February 12, 2015
Helen M. Simon: December 4, 1919 ~ March 2, 2015

(complete obituary now available)
More Obituaries →
Search News Bonners Ferry:
Loading